Contact Us
Institutional Communications
Bureau of Mines Building, Room 137
Laramie
Laramie, WY 82071
Phone: (307) 766-2929
Email: cbaldwin@uwyo.edu
Journalist, Author to Deliver Cone Lecture at UW Tuesday
October 17, 2022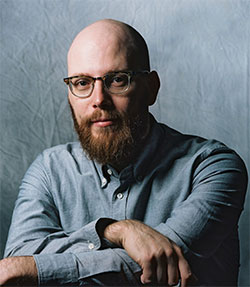 Jonathan Katz
Award-winning author and journalist Jonathan Katz is the 2022 Cone Lecture in History speaker at the University of Wyoming.
Katz will speak at 5:30 p.m. Tuesday, Oct. 18, in the College of Business Scarlett Auditorium. Following his lecture, there will be a question-and-answer period and a book signing. The event is free and open to the public.
Katz's latest book is "Gangsters of Capitalism: Smedley Butler, the Marines, and the Making and Breaking of America's Empire." From 2016 through 2021, Katz traveled across East Asia and Latin America and did extensive archival research to uncover the forgotten history of the rise of the U.S. global empire in the early 20th century and its legacies today.
His first book, "The Big Truck That Went By: How the World Came to Save Haiti and Left Behind a Disaster," was a PEN Literary Award finalist and won the Overseas Press Club of America's Cornelius Ryan Award for the year's best book on international affairs. He also is a recipient of the James Foley/Medill Medal for Courage in Journalism.
Katz was the Associated Press correspondent in Haiti when he survived and provided the first international alert of the deadliest earthquake ever recorded in the Western Hemisphere. Soon after, he produced the first evidence showing United Nations peacekeepers had caused and were covering up a devastating post-quake cholera epidemic. His initial flurry of stories launched six years of further investigation by himself, epidemiologists and legal advocates. In 2016, Katz obtained the first admission by Secretary-General Ban Ki-moon that the U.N. had played a role in the outbreak.
Katz was a 2019 National Fellow at New America. A regular contributor to The New York Times and other publications, he regularly appears on TV and radio and formerly directed the Media and Journalism Initiative at Duke University's John Hope Franklin Humanities Institute.
The Cone Lecture is made possible by the support of Susan B. Horton Cone. A native of Newcastle and the daughter of a local physician, Cone graduated from UW as a history major in 1931. Throughout her adult life, she spent time in Jackson Hole, Louisiana and California. But, home to Cone was always Newcastle, and the university was never far from her thoughts, according to her biography.
In her later years, Cone expressed a concern that the increasingly technological society was losing sight of the value of the arts and humanities. Seeking to encourage discussion in the humanities, Cone endowed the lecture series in honor of her family.
Contact Us
Institutional Communications
Bureau of Mines Building, Room 137
Laramie
Laramie, WY 82071
Phone: (307) 766-2929
Email: cbaldwin@uwyo.edu