Contact Us
Institutional Communications
Bureau of Mines Building, Room 137
Laramie
Laramie, WY 82071
Phone: (307) 766-2929
Email: cbaldwin@uwyo.edu
UW College of Business Appoints Center for Professional Selling Director
October 12, 2022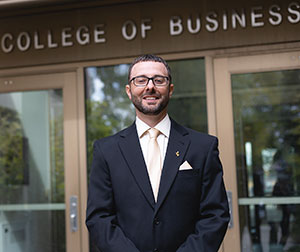 Mike Burns
Mike Burns has been named as the new Timothy M. Miles Director of the Center for Professional Selling in the University of Wyoming College of Business.
He joins marketing Professor Mark Leach, the Mendicino Family Chair in Sales and Salesmanship, and Molly Burchett, an assistant professor of marketing, at the center.
"I am very thankful for the opportunity to join the team at the College of Business with Dean Scott Beaulier and Professor Leach, and I am excited to help build upon the foundation they've already established," Burns says. "Professor Leach has done a great job building this program from its creation while establishing a clear vision and strategic plan for the Center for Professional Selling. I am looking forward to cultivating relationships with our students and corporate partners as we work to build one of the top sales programs in the country."
Burns will be responsible for overseeing daily operations, developing and maintaining strategic corporate sponsorships, and facilitating a variety of student experiential learning and engagement opportunities -- including coordinating interactions between students and corporate sponsors. He will also lead the marketing and customer relationship management activities of the center.
"We are excited to add someone with Mike's background to the College of Business," Beaulier says. "His time spent working in Major League Baseball will add value to our students, and we are looking forward to his new ideas and input on the direction for the Center for Professional Selling. Adding Mike to the team ultimately helps us sustain the momentum we have going within our sales program."
Burns brings with him 18 years of experience working in Major League Baseball (MLB) for the Philadelphia Phillies, Houston Astros, Toronto Blue Jays and Milwaukee Brewers. He was trusted to oversee the Houston Astros' amateur scouting department at the age of 21 and has held numerous positions within MLB baseball operations departments. Burns has extensive experience in contract negotiations; building marketing and social media campaigns; overseeing business and logistical operations; cultivating relationships with key stakeholders and families/students located throughout the U.S.; and helping professional athletes obtain their college degrees.
"Mike demonstrates great leadership qualities, attention to detail and enthusiasm, with a vision for growing the department. We are very excited for the new opportunities his involvement will create for the center," Leach says.
Burns received a B.S. (2008) in sport and recreation management and an M.S. (2020) in sport business from Temple University.
About UW's Center for Professional Selling
The center involves cross-campus collaboration producing a multidisciplinary program focused on developing long-lasting customer relationships. The center promotes professional selling and sales management; delivers innovative sales instruction; provides industry engagement opportunities; and conducts research that advances the sales field.
Using software and technology within the classroom, students experience how the effective use of customer and market information is critical when engaging today's customers. The program's curriculum and experiential learning opportunities earned it the distinction of a "Top University Sales Program 2017" by the Sales Education Foundation.
For more information about UW's Center for Professional Selling and opportunities to be involved with the center, visit www.uwyo.edu/mgtmkt/sales/.
Contact Us
Institutional Communications
Bureau of Mines Building, Room 137
Laramie
Laramie, WY 82071
Phone: (307) 766-2929
Email: cbaldwin@uwyo.edu