Contact Us
Institutional Communications
Bureau of Mines Building, Room 137
Laramie
Laramie, WY 82071
Phone: (307) 766-2929
Email: cbaldwin@uwyo.edu
Wyoming Manufacturing Program Launches
October 3, 2022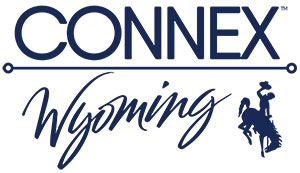 The University of Wyoming and other partners last week marked the launch of a new program called CONNEX™ Wyoming, an online software platform designed to strengthen the state's local and domestic manufacturing supply chain.
"The door is opening for manufacturing opportunities here in Wyoming," Gov. Mark Gordon said during the kickoff event at L&H Industrial in Sheridan.
Through the CONNEX platform, Wyoming manufacturers will be able to better connect with one another, find local suppliers, discover new business opportunities and manage their supply chains.
The platform is part of the national CONNEX Marketplace program that is rolling out across the country to help solve many of the manufacturing supply chain issues and bring more manufacturing opportunities to U.S. suppliers. The CONNEX Wyoming platform will allow larger manufacturers to post requests for information and requests for quotations in the platform's B2B Exchange Center and identify Wyoming suppliers that can meet their needs. Small to medium Wyoming suppliers also can increase their discoverability based on their capabilities, equipment, processes, materials, certifications and more, which can lead to manufacturing opportunities within new markets.
"We were having trouble getting in front of Northrop Grumman," says Mike Wandler, CEO of L&H Industrial. "To get contracts with large manufacturers, you basically try knocking on the door but get nowhere. One of our employees came across CONNEX Marketplace, and so we signed up and filled out our profile to see if we were a match for Northrop. CONNEX called us and said that we were indeed a match and that Northrop wanted to meet with us. Shortly after that, we got our first contracts with Northrop Grumman.
"Using CONNEX to connect buyers with suppliers is great for Wyoming, since it's very expensive to run out and make cold calls, only to have the door slammed in your face. I really care about the diversification and growth of our Wyoming economy and am a fan of providing resources like CONNEX to help with that," Wandler concludes.
CONNEX Wyoming is open to all large and small manufacturers within any manufacturing industry. Manufacturers must be approved to join (verified as a manufacturer) but, once they're approved, the program is free for Wyoming companies. This free access is provided through sponsorship of the platform by the Wyoming Manufacturing Works office, UW, the Wyoming Business Council and the Wyoming Innovation Partnership.
"CONNEX Marketplace is another example of our commitment to provide Wyoming manufacturers with access to resources that ensure a productive, efficient and resilient manufacturing community," says Steve Farkas, UW's associate vice president for economic development.
The CONNEX Marketplace technology was developed several years ago by i5 Services to connect the U.S. manufacturing supply chain. It's now being used by manufacturers and suppliers across the country to connect with one another and find new business opportunities. Wyoming is the ninth state to roll out the CONNEX Marketplace platform, joining Florida, Kansas, Michigan, Missouri, Oklahoma, Tennessee, the West Texas region and Utah. In each state, the platform is managed by the state's Manufacturing Extension Partnership (MEP) office to provide a coordinated approach of outreach and training for users. In Wyoming, the MEP organization is called Manufacturing Works and is led by Rocky Case, its director.
Free registration for Wyoming manufacturers and suppliers began with the kickoff event. Interested participants can sign up and get more information at https://manufacturing-works.com/connex-wyoming/. They also can email Case at rcase@uwyo.edu or call (307) 766-4812 with questions.
About Manufacturing Works
Manufacturing Works, a part of the Business Resource Network at UW, is a member of the National Institute of Standards and Technology MEP National Network. The MEP National Network is a unique public-private partnership that delivers comprehensive, proven solutions to U.S. manufacturers, fueling growth and advancing U.S. manufacturing. It's focused on helping small- and medium-sized manufacturers generate business results and thrive in today's technology-driven economy.
About CONNEX Marketplace by i5 Services
Founded in 2015, CONNEX Marketplace is a SaaS platform that connects U.S. manufacturers, suppliers and buyers into a single, accurate, searchable supply-chain database based on deep data such as equipment, certifications and capabilities. Manufacturers and suppliers can quickly post and respond to needs, visualize supply chain risk, search for qualified suppliers and instantly discover new business opportunities.
About L&H Industrial
Founded in 1964 and headquartered in Gillette, L&H Industrial is a leader in technology innovations, custom manufacturing and comprehensive services for heavy industrial machinery used in mining, oil and gas, railways and other industries.
About the University of Wyoming Office of Research and Economic Development
The Office of Research and Economic Development works with faculty, staff and students in all seven colleges and UW's outreach programs to link research, technology transfer and economic development efforts to enhance federal, state and private-sector support for faculty and graduate student scholarship.
Contact Us
Institutional Communications
Bureau of Mines Building, Room 137
Laramie
Laramie, WY 82071
Phone: (307) 766-2929
Email: cbaldwin@uwyo.edu