Contact Us
Institutional Communications
Bureau of Mines Building, Room 137
Laramie
Laramie, WY 82071
Phone: (307) 766-2929
Email: cbaldwin@uwyo.edu
Ben Markley Big Band to Perform With UW Jazz Ensembles Nov. 16-17
November 11, 2022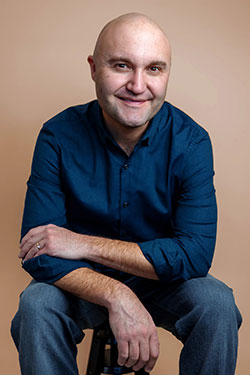 Ben Markley
The Ben Markley Big Band will perform two public concerts with University of Wyoming jazz ensembles as part of the band's residency at UW Nov. 15-17.
The band will perform with UW jazz combos Wednesday, Nov. 16, at 7:30 p.m. in the Buchanan Center for the Performing Arts recital hall. The concert is free and open to the public.
The band then will perform with the Wyoming Jazz Ensemble Thursday, Nov. 17, at 7:30 p.m. in the Performing Arts concert hall. Tickets are $14 for the public, $10 for senior citizens and $8 for students. To purchase tickets, visit the Performing Arts box office, call (307) 766-6666 or go online at www.tix.com/ticket-sales/uwyo/6984. UW faculty and staff members, and military personnel can purchase tickets at a discounted rate. To receive the discount, visit the Performing Arts box office between noon-6 p.m. Monday-Friday or call (307) 766-6666.
Ben Markley, UW Jazz Studies director and jazz pianist, will be joined by special guests Jake Boldman, Melissa Gardiner, Jon Gauer, Dan Jonas, Steve Kovalcheck, Dawn Kramer, Brad Leali, Marcus Lewis, Jim Pisano, Peter Sommer, Ashley Summers, Rob Tapper, Sam Williams and Shawn Williams. Also performing will be UW Department of Music faculty members Scott Turpen, a professor of saxophone, and Andy Wheelock, an assistant professor and percussion area coordinator.
The Nov. 16 concert will feature all four jazz combos performing a number of jazz standards.
UW Jazz Combo IV will perform works by Duke Ellington, Thelonious Monk and Herbie Hancock. Micah Miller, a UW student from Casper, will direct the combo.
UW Jazz Combo III will perform a selection of works from Slide Hampton, Miles Davis, Ellington, Tadd Dameron and Hank Mobley. The UW Department of Music's Seth Lewis, a double bass lecturer, is the combo's director.
UW Jazz Combo II will perform works by Benny Golson, Bob Reynolds and Horace Silver. Ryan Fourt, a jazz guitar lecturer in the UW Department of Music, leads the ensemble.
The UW Jazz Combo I program will include works by Miller and Johnny Mercer. Markley will direct the combo.
For the Nov. 17 concert, the Wyoming Jazz Ensemble will present a program of works composed and arranged by Markley. The Ben Markley Big Band will follow with works by Markley, Cedar Walton, Dizzy Gillespie and Mal Waldron.
The guest artists also will teach master classes to UW Department of Music students throughout the residency.
For more information, call Kathy Kirkaldie, UW Fine Arts coordinator, at (307) 766-2160 or email kirisk@uwyo.edu.
Contact Us
Institutional Communications
Bureau of Mines Building, Room 137
Laramie
Laramie, WY 82071
Phone: (307) 766-2929
Email: cbaldwin@uwyo.edu