Contact Us
Institutional Communications
Bureau of Mines Building, Room 137
Laramie
Laramie, WY 82071
Phone: (307) 766-2929
Email: cbaldwin@uwyo.edu
UW Appoints VP for Online, Continuing Education
November 21, 2022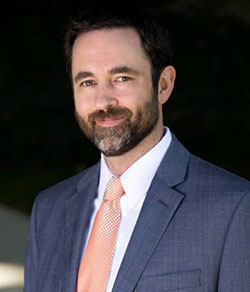 Matt Griswold
An experienced higher education administrator who has developed distance education programs at multiple institutions has been appointed as the University of Wyoming's vice provost for online and continuing education.
Matt Griswold, most recently the associate vice president for online learning at Metropolitan State University of Denver (MSU-Denver), will begin his new role at UW Dec. 19.
"We're excited about the opportunities for UW to provide a more robust array of online programming, and we're confident that Matt's experience and leadership will help us achieve our ambitions," says Provost and Executive Vice President Kevin Carman. "Matt is poised to build on the progress we've made under the interim leadership of Ben Cook, who has done a remarkable job and deserves our appreciation."
Griswold has held his leadership role at MSU-Denver since 2017, shaping the strategy for online learning as well as the use of technology in teaching and student services across the institution. Before that, he was the program director for distance degrees at the University of Wisconsin-Madison, and he also served as the director of programs, development and administration for Colorado State University Online.
"Over the past few years, we have learned in detail what it means to educate, serve and interact virtual learners, and these lessons will be invaluable as we build on the already solid foundation of online learning experiences offered by University of Wyoming campuses, colleges and departments," Griswold says. "Similarly, students have discovered online education affords them the flexibility to fit learning into their lives while challenging them to cultivate unique skills and manage new responsibilities. Students in the state, region and beyond are now prepared to engage with UW in new ways, and I'm excited to guide the growth of online programs -- as well as professional development and continuing education opportunities -- in collaboration with faculty and staff who have the expertise and passion to build the programs these audiences are seeking."
Griswold holds a Doctor of Education in higher and postsecondary education from Arizona State University; a Master of Science in educational administration from the University of Wisconsin-Madison; and a Bachelor of Science in journalism from Ohio University.
Contact Us
Institutional Communications
Bureau of Mines Building, Room 137
Laramie
Laramie, WY 82071
Phone: (307) 766-2929
Email: cbaldwin@uwyo.edu