Contact Us
Institutional Communications
Bureau of Mines Building, Room 137
Laramie
Laramie, WY 82071
Phone: (307) 766-2929
Email: cbaldwin@uwyo.edu
UW Engineering Department Names First Female Full Professor
November 4, 2022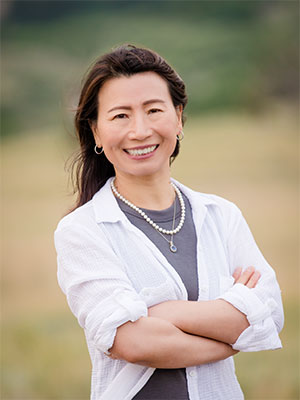 Katie Li-Oakey
Katie Li-Oakey has become the first female full professor in the University of Wyoming's Department of Chemical and Biomedical Engineering.
Li-Oakey is a leading researcher in her field of multiscale materials for separation, energy conversion and storage, and health care. She is well known in the scientific community for her dedication to connecting fundamental research with functional materials and devices.
"I am honored to have my efforts and accomplishments recognized in this promotion," Li-Oakey says. "During my time as a faculty member, I have had the pleasure to work with many talented students, both undergraduates and graduates. All of our accomplishments are a team success. This recognition reflects on my group's hard work throughout the years."
Since joining the UW faculty in fall 2013, Li-Oakey has published over 27 articles and received a number of patents. She regularly is invited to speak at national and international meetings, seminars and lectures on membranes, 2D materials and solid-liquid interaction in nanoconfined environments. Her list of honors includes Intel Fab Achievement Awards, an Anadarko Faculty Fellowship, a Wyoming NASA Space Grant Consortium Faculty Fellowship and her department's Teacher of the Year Award.
"The Department of Chemical and Biomedical Engineering is fortunate to count Dr. Li-Oakey as one of our faculty," says Patrick Johnson, department head and a professor of chemical and biomedical engineering. "She is internationally recognized for her work on membranes and nanomaterials. Her impact can best be measured by the numerous students and postdoctoral scholars she has mentored who have moved on to rewarding STEM (science, technology, engineering and mathematics) careers."
Li-Oakey is a leader in her area of research, nano and micromaterials, which involves discovering the electron transfer effect in a catalyst platform formed via atomic layer deposition -- and the super-fast mass-transfer mechanism of solvated ions and molecules through covalent organic frameworks. The electron transfer effect is used by a vast range of scientists in national laboratories, academia and industry. The mass-transfer mechanism in confined framework pores underpins the specific areas of liquid separation using artificial membranes, in addition to offering a platform to many other fields, such as in interactions of electrolytes and electrodes for energy conversion and storage.
"I'm very happy to see Dr. Li-Oakey reach this highest academic rank," says Cameron Wright, Carrell Family Dean of the College of Engineering and Physical Sciences. "Dr. Li-Oakey is an exemplary role model for our female students and junior faculty members. Her career success sends a strong message of encouragement to them all."
Among her current projects in collaboration with colleagues, her team is working on experimental and computing research in critical mineral recovery; the effect of complex liquid environments on separation; carbon electrodes for supercapacitors and batteries from Wyoming coal; and controlled degradable polymer scaffolds for future-generation orthopedic therapy.
Li-Oakey received all of her degrees in chemical engineering: a B.S. (1994) from Shandong University (formerly Shandong University of Technology); an M.S. (1997) from Tianjin University; and a Ph.D. (2003) from the University of Colorado-Boulder.
Contact Us
Institutional Communications
Bureau of Mines Building, Room 137
Laramie
Laramie, WY 82071
Phone: (307) 766-2929
Email: cbaldwin@uwyo.edu