Contact Us
Institutional Communications
Bureau of Mines Building, Room 137
Laramie
Laramie, WY 82071
Phone: (307) 766-2929
Email: cbaldwin@uwyo.edu
UW Joins Consortium in NSF I-Corps Hub's $14M STEM Innovation Program
November 2, 2022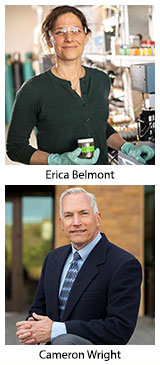 The University of Wyoming has joined seven other universities in the newly awarded National Science Foundation (NSF) Innovation Corps (I-Corps) Great Plains Hub -- a $14 million, five-year effort to foster innovation and entrepreneurship in science, technology, engineering and mathematics (STEM) programs in rural, economically underserved regions.
NSF I-Corps consists of regional hubs across the nation, and each hub consists of a lead institution and seven or more partner universities, researchers, established entrepreneurs, local and regional entrepreneurial communities, and federal agencies. The new Great Plains Hub is part of a group of five additional hubs announced by NSF in September.
"The NSF I-Corps program is a proven mechanism to stimulate creation of new products and startup companies," says Cameron Wright, Carrell Family Dean of the College of Engineering and Physical Sciences and institutional leader for UW's portion of the grant. "The Great Plains Hub will serve this area of the country for the first time and benefit both the state of Wyoming and the University of Wyoming."
UW is joined by hub leader North Dakota State University and hub partner institutions the University of North Dakota, South Dakota State University, South Dakota School of Mines and Technology, Dakota State University, the University of South Dakota and the University of Nebraska-Omaha. Each institution will host regional I-Corps courses and contribute to programming and curriculum strategy in STEM.
"The I-Corps program trains researchers to assess commercialization opportunities in their work and lowers the barriers to entrepreneurship for those researchers," says Erica Belmont, department head and associate professor of mechanical and energy systems engineering, and faculty leader for UW's portion of the grant. "This increases the efficiency and success of moving research products out of the laboratory to effect positive societal change and drive economic growth."
Founded by NSF in 2011, I-Corps programming nationwide empowers researchers to combine their technical and scientific knowledge with an entrepreneurial mindset to develop new technologies and startups that benefit society. The I-Corps curriculum addresses the knowledge gap between the skills needed to develop an innovative technology in a lab and the skills needed to bring that technology to market.
The Great Plains Hub will become the 10th I-Corps hub within the National Innovation Network. The Great Plains Hub launches officially in 2023. People interested in learning about opportunities to participate can email Belmont at ebelmont@uwyo.edu. STEM researchers interested in finding out more about the Great Plains Hub can visit https://gp-icorps.org/wordpress/.
Contact Us
Institutional Communications
Bureau of Mines Building, Room 137
Laramie
Laramie, WY 82071
Phone: (307) 766-2929
Email: cbaldwin@uwyo.edu