Contact Us
Institutional Communications
Bureau of Mines Building, Room 137
Laramie
Laramie, WY 82071
Phone: (307) 766-2929
Email: cbaldwin@uwyo.edu
UW's Second Annual Wild and Working Lands Film Festival Open for Submissions
November 21, 2022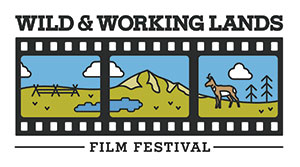 Submissions for the second annual Wild and Working Lands Film Festival, sponsored by the Haub School of Environment and Natural Resources at the University of Wyoming, are now being accepted.
The film festival will be held in Laramie next April, and the deadline to submit entries is Jan. 16.
The Haub School invites anyone interested to submit a short film that explores the intricate connections between humans and the landscapes where residents "dwell, work and play." Submissions also could share stories about hunting, fishing, ranching, farming, conservation, outdoor recreation, energy development and many other topics.
Festival and submission details are available at www.uwyo.edu/haub/events/film-festival/.
"Our wild and working lands unite Wyomingites," says John Koprowski, dean of the UW Haub School of Environment and Natural Resources. "One doesn't live in Wyoming without a connection to our vast landscapes on which we live, work, raise our families, share moments with those we love and ponder life's mysteries.
"Although we may have many differences, sustaining our wild and working lands is a shared passion that points us toward a positive future. We are pleased to celebrate the diversity of values and connections to our lands through the medium of film," he adds.
Award categories include: Best Film About Wyoming; Best Film Directed by a UW Student; Best Film Directed by a Wyoming Community College Student; Best Film by an Indigenous Director or Showcasing an Indigenous Worldview; the Festival Grand Prize selected by the judges; and People's Choice selected by audience vote at the end of the festival.
"Film is such a powerful way to tell stories and share ideas," says Emilene Ostlind, the Haub School's communications coordinator and one of the festival organizers. "We want this festival to highlight new thinking about relationships between people and our landscapes. Hopefully, viewers come away moved and inspired."
Film festival organizers aim to create a Wyoming-focused event and invite submissions from UW, community colleges, independent filmmakers and nonprofit organizations across the state and beyond. They also welcome films from outside Wyoming that can inform the experiences of those living in the high plains and Mountain West.
In addition to the in-person screening of selected films in Laramie, organizers are exploring the options of making films available virtually and holding screenings around Wyoming.
About the UW Haub School of Environment and Natural Resources
UW's Haub School of Environment and Natural Resources educates future leaders to have the skills, tools and experiences they need to take on environment and natural resource challenges and create sustainable futures for wild and working lands.
For more information, email Ostlind at emilene@uwyo.edu.
Contact Us
Institutional Communications
Bureau of Mines Building, Room 137
Laramie
Laramie, WY 82071
Phone: (307) 766-2929
Email: cbaldwin@uwyo.edu