Contact Us
Institutional Communications
Bureau of Mines Building, Room 137
Laramie
Laramie, WY 82071
Phone: (307) 766-2929
Email: cbaldwin@uwyo.edu
Breezy Taggart to Give Sandeen Lecture at UW Dec. 12
December 5, 2022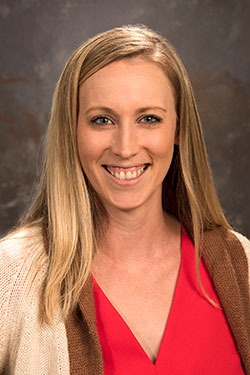 Breezy Taggart
Assistant Instructional Professor Breezy Taggart will present the annual Sandeen Lecture in the Humanities Monday, Dec. 12, at the University of Wyoming.
Taggart, a UW Honors College instructor, will discuss "Reclaiming Mental Health Representations Through Contemporary Art" at 4 p.m. in Room 506 of Coe Library. A reception is planned in the Cooper House after Taggart's presentation.
Her discussion also will be available through Zoom at https://uwyo.zoom.us/j/94065320752.
Surveying the visual iconography of mental illness throughout the history of art often reveals a number of recurring and prevalent stereotypes, replete with stigma, shame and misunderstanding.
Taggart notes that key examples from contemporary art such as Anna Schuleit Haber's installation "Bloom" and the "Faces of Mental Health Recovery" public art project show that art has the power to reclaim traumatic and harmful pictorial narratives of mental illness, transforming past portrayals or sites of pain into powerful spaces of hope and belonging.
It has been noted that Haber's installation in a mental health hospital reclaimed this space by filling it with 28,000 potted plants and flowers, imbuing life and community through an evocative, living medium. "Faces" similarly relies on community, as it represents a partnership between patient and artist collaborating together to create photographic portraits of mentally ill individuals at community mental health centers.
The two examples provide a backdrop to explore contemporary art as a powerful medium that can transform the ways in which mental illness has been portrayed or represented visually, perhaps also playing a role in healing, understanding and hope, Taggart says.
The Sandeen Lecture in the Humanities is named for Eric Sandeen, a former professor and chair of UW's American Studies Program, and the founding director and director emeritus of the Wyoming Institute for Humanities Research at UW. The lecture is co-sponsored by the humanities research institute and the Wyoming Humanities Council.
"Each year, the faculty fellows in the cohort of the institute's Humanities Research Group vote to decide which fellow will deliver the lecture," says Scott Henkel, director of the humanities research institute. "To be chosen for it is a particular honor, showing the respect of one's peers and showcasing some of the best humanities research by UW faculty."
For more information about the lecture, email Henkel at scott.henkel@uwyo.edu or humanities@uwyo.edu.
Contact Us
Institutional Communications
Bureau of Mines Building, Room 137
Laramie
Laramie, WY 82071
Phone: (307) 766-2929
Email: cbaldwin@uwyo.edu