Contact Us
Institutional Communications
Bureau of Mines Building, Room 137
Laramie
Laramie, WY 82071
Phone: (307) 766-2929
Email: cbaldwin@uwyo.edu
New Short Film Links Ranching and Fishing to Conservation Careers for UW Students
January 27, 2023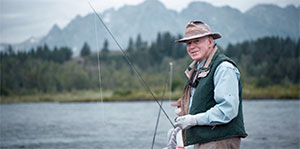 In this screengrab from "Father + Nature," John Turner fly fishes on the Snake River. (Film by Mark Turner)
A new short film, "Father + Nature," tells the story of John Turner, a humble cowboy from western Wyoming whose career included some of the most impactful conservation decisions of the last century.
The film emphasizes the perspective that individuals from farming, ranching, hunting and fishing backgrounds can bring to conservation work and ends with an opportunity to donate to a scholarship fund for such students at the University of Wyoming.
"That idea of national parks was forged out of the West. It was forged with people who worked the land," Turner says in the film as an example of this connection. Our "national parks have grown into programs that have inspired the entire world."
With footage from the Triangle X Ranch and the Snake River in Teton County, the film offers a portrait of Turner through voices from three generations of family. Turner's grandparents founded the Triangle X guest ranch at the edge of Grand Teton National Park in 1926. Growing up on the ranch, Turner's experiences as a horseman and fly fisherman informed his future career moves.
He served in the Wyoming State Legislature in the 1970s and '80s. In 1989, President George H.W. Bush appointed Turner to direct the U.S. Fish and Wildlife Service, where he expanded collaborative approaches for endangered species conservation, protected wetlands and oversaw the creation of dozens of new national wildlife refuges. In 1993, he became president of the Conservation Fund and protected more than 2.8 million acres across America. In 2005, President George W. Bush appointed him as assistant secretary of state for oceans and international environmental and scientific affairs.
"Impact is judged through the lens of history," says UW Haub School of Environment and Natural Resources Dean and Wyoming Excellence Chair John Koprowski. "John Turner's legacy is one of sustained accomplishment from his amazing six decades of leadership roles in conservation."
Turner served as board chairman for UW's Ruckelshaus Institute in the early 2000s and as the Beverly and Eldon Spicer Visiting Professor in Environmental and Natural Resources at UW. The university awarded him an honorary doctorate in 2010. He remains actively engaged as board member emeritus for the Haub School, where he is a vocal advocate for conservation-oriented students and those connected to Wyoming's agricultural industry.
"Father + Nature" premiered during the 2023 International Fly Fishing Film Festival in Seattle Jan. 12 before a sold-out crowd. The film is now screening in venues around the country as part of the festival. It will show in Denver, Colo., Feb. 17, Green River March 3 and Jackson March 9, with an in-person appearance by Turner, as well as many other locations this year. Mark Turner produced the film. Learn more about "Father + Nature" and watch a trailer at www.flyfilmfest.com/films/.
The film ends with a call for viewers to contribute to scholarships for the Outdoor Guide Certificate Program, offered through the Haub School, at www.givecampus.com/campaigns/33360/donations/new.
Contact Us
Institutional Communications
Bureau of Mines Building, Room 137
Laramie
Laramie, WY 82071
Phone: (307) 766-2929
Email: cbaldwin@uwyo.edu