Contact Us
Institutional Communications
Bureau of Mines Building, Room 137
Laramie
Laramie, WY 82071
Phone: (307) 766-2929
Email: cbaldwin@uwyo.edu
Winter Issue of UWyo Magazine Highlights International Initiatives
January 30, 2023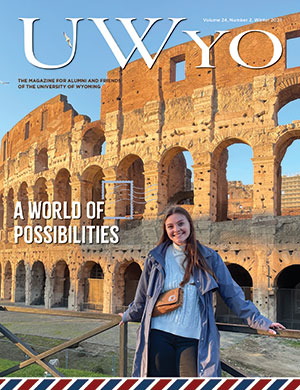 The winter issue of UWyo Magazine, the flagship, award-winning publication of the University of Wyoming, focuses on UW's international initiatives, including education abroad, worldwide research collaborations, global experiences on campus, and international alumni, students and faculty.
"In preparing our graduates to be successful in this increasingly competitive global marketplace, it is essential that we expose them to international ideas, challenges, cultures, languages and practices," says UW President Ed Seidel. "We are fortunate here at UW to continue attracting and building strong international partnerships, which enrich our state while helping provide top-notch education for our students. This issue of UWyo Magazine explores a number of these connections."
Stories include:
-- How education abroad is providing students with life-changing experiences that help them prepare for their future careers.
-- Cutting-edge, international research and teaching collaborations.
-- Profiles of international alumni, students and professors.
-- Global partnerships and initiatives bringing experiences to campus, from guest performers and speakers to international events.
"In many respects, UW is our state's portal to the world around us -- a place where Wyoming meets the world, and where the world meets Wyoming," Seidel says.
To read this issue and past issues of UWyo Magazine, go to www.uwyo.edu/uwyo.
UWyo Magazine's spring 2022 student issue recently won first place in the Wyoming Press Association Associates' contest publications category, and the upcoming spring issue will once again focus on UW's current and incoming students.
The magazine is produced three times a year, each winter, spring and fall, in a partnership with the UW Alumni Association.
Contact Us
Institutional Communications
Bureau of Mines Building, Room 137
Laramie
Laramie, WY 82071
Phone: (307) 766-2929
Email: cbaldwin@uwyo.edu