Contact Us
Institutional Communications
Bureau of Mines Building, Room 137
Laramie
Laramie, WY 82071
Phone: (307) 766-2929
Email: cbaldwin@uwyo.edu
UW Custodian Rachel Flores Named Employee of Fourth Quarter
February 6, 2023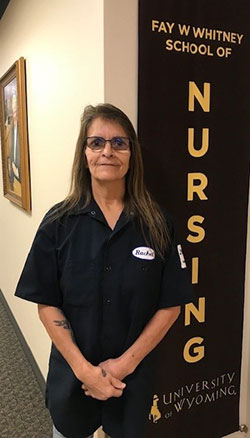 Rachel Flores
It is the small things that others see custodian Rachel Flores do that make her a valuable employee in the University of Wyoming College of Health Sciences. No matter the task, Flores makes sure it is done correctly and to the best of her abilities.
Her work has not gone unnoticed by her peers and, for that, Flores has been selected as the Staff Employee of the Fourth Quarter. The award, sponsored by Staff Senate, recognizes UW staff members for their efforts toward excellence in the workplace. A reception for Flores will be at 10:30 a.m. Tuesday, Feb. 14, in the Wyoming Union Family Room. The event is open to the UW community; refreshments will be served.
Flores is assigned to the College of Health Sciences Building's third floor and half of the third and fourth floors in the School of Pharmacy wing.
"I was shocked and very happy to receive this award. It has proved to me that hard work does pay off," says Flores, who has been a UW custodian the past eight years. "Being recognized daily for my work ethic motivates me to keep doing what I do with a smile. I don't like my job -- I love my job, and I love everyone I work around -- the faculty and the students. The best part of my job is working somewhere where I am noticed and appreciated for what I do."
And, those around her do take notice.
"Rachel takes extreme pride in her work. She takes special care of her area and ensures that all areas are spotless," a nominator says. "She is always going above and beyond what is expected of her and helping others whenever needed. She is often asked to cover extra areas when others are unavailable, and she makes sure that she gives the additional space just as much care as she does to her assigned space."
Health Sciences personnel notice Flores' attention to detail and marvel how clean their building is. They give her credit for making sure they have plenty of supplies for cleaning up after themselves; are grateful that their bathrooms are always clean; and that Flores always takes time to make sure everyone has what they need before she leaves for the day.
"I have never seen such a hard worker. I feel that Rachel needs to be employee of the quarter every quarter," another nominator says. "She is very proud of her responsibilities as housekeeper of our building. She works diligently to ensure all areas are clean and sanitized. The difference in the cleanliness of our building is evident when she is not here."
Her colleagues see the small things she does for others that make her a valuable team member. For instance, one nominator says when Health Sciences personnel were working from home during the COVID-19 pandemic, Flores made sure she watered all of the plants in the faculty/staff members' offices. Other small tasks that Flores does for her colleagues that do not go unnoticed are turning up the heat in offices during bitter cold days so that offices are warm when the building's personnel come to work or dusting all of the photos in the main Health Sciences Building office.
"Rachel is always smiling and cheerful, no matter what task she is working on," another nominator adds.
Flores credits her custodial colleagues, Danielle Serna and Evan Wilhelm, for making a "great team," plus gives additional credit to Sherrill Smith, Fay W. Whitney School of Nursing dean, and Eleanor Downey, former director of the Division of Social Work.
An Employee of the Quarter nominee can be any UW staff employee, and each must receive three nomination forms from three separate individuals. Nominations must be submitted to the Staff Senate office. The forms can be found here.
For more information, call the Staff Senate office at 766-5300.
Contact Us
Institutional Communications
Bureau of Mines Building, Room 137
Laramie
Laramie, WY 82071
Phone: (307) 766-2929
Email: cbaldwin@uwyo.edu