Contact Us
Institutional Communications
Bureau of Mines Building, Room 137
Laramie
Laramie, WY 82071
Phone: (307) 766-2929
Email: cbaldwin@uwyo.edu
UW's Wall Named AAAS Fellow
February 1, 2023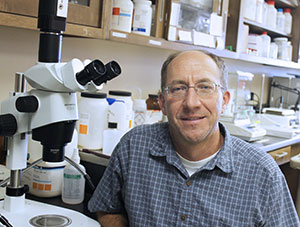 Dan Wall
A University of Wyoming researcher has been named a fellow of the American Association for the Advancement of Science (AAAS), the world's largest general scientific society.
Dan Wall, a professor in UW's Department of Molecular Biology, is being honored for "elucidating the mechanisms of kin recognition in social microbes," according to his award letter from AAAS.
"We are being recognized for work on the mechanism of kin recognition in social microbes. In particular, we discovered a polymorphic cell surface receptor that allows myxobacteria to recognize their close kin," Wall says. "In turn, this results in the exchange of cellular components between cells and helps coordinate their social interactions, including multicellular development. This system also allows cells to discriminate against cells that are not highly related or clonal. Our discoveries illuminated a novel mechanism and is arguably the best described system of kin recognition in bacteria."
He will receive his certificate and rosette during the AAAS annual meeting in June in Washington, D.C.
"It's truly an honor to be recognized by peers and thought leaders that our work is making impactful scientific contributions," Wall says.
Wall's primary research at UW is in molecular mechanisms of social interactions in microbes.
"In particular, we use Myxococcus xanthus as a model system. In general, myxobacteria are known as social predators that kill and consume other microbes," he says. "In response to starvation, thousands of migrating cells aggregate and form multicellular fruiting bodies wherein cells differentiate into different cell types, including environmentally resistant spores. These organisms have some of the most complex social interactions and largest genomes found in the bacterial kingdom and serve as models for understanding how multicellularity may have evolved."
Wall joined the UW Department of Molecular Biology in 2007 as an assistant professor and became a full professor in 2018. Before coming to UW, he was a postdoctoral fellow at Stanford University; a senior scientist at Elitra Pharmaceuticals; and a principal scientist at Anadys Pharmaceuticals.
Wall received his Ph.D. in molecular microbiology from the University of Utah and his bachelor's degree in biology from Sonoma State University. Wall's Ph.D. work involved studying the heat shock response and molecular chaperones in E. coli.
The tradition of AAAS Fellows began in 1874. AAAS, founded in 1848, includes some 262 affiliated societies and academies of sciences and serves 10 million individuals. The association also publishes Science and five other journals.
Wall also recently participated in a Zoom interview with Madeline Barron, the science communications specialist at the American Society for Microbiology. He discussed and answered questions about an article titled "Kin or Nonkin? Microbial Kin Recognition and Cooperation" that Barron wrote.
"That article and our work is broadly interested in how social cooperation works at a molecular level. In other words, which genes and proteins allow individuals or cells to cooperate, and how do they work?" Wall says. "In the context of natural selection and 'survival of the fittest' in a Darwinian evolutionary framework, the notion of individuals helping other individuals (cooperation), at their own expense, does not seem plausible. However, cooperation is readily seen in many animal species, where individuals help their kin."
Wall says this sense of community cooperation is seen, for example, in bird flocks and schools of fish, as well as in microbes.
Contact Us
Institutional Communications
Bureau of Mines Building, Room 137
Laramie
Laramie, WY 82071
Phone: (307) 766-2929
Email: cbaldwin@uwyo.edu