Contact Us
Institutional Communications
Bureau of Mines Building, Room 137
Laramie
Laramie, WY 82071
Phone: (307) 766-2929
Email: cbaldwin@uwyo.edu
Black Hills Corp. Vice President to Speak at UW March 20
March 13, 2023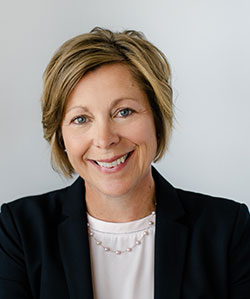 Marne Jones
Marne Jones, vice president of electric utilities at Black Hills Corp., will discuss Wyoming's energy future from a utility's perspective from noon-1 p.m. Monday, March 20, in the Energy Innovation Center's Encana Auditorium at the University of Wyoming.
The free lunch presentation is part of the School of Energy Resources (SER) Distinguished Speaker Series. Interested students, members of the campus community and the public are invited to attend.
A UW alumna, Jones also will discuss her professional journey and advancement through Black Hills Corp. and how her degree from UW has played a valuable role in opening doors and setting her up for success.
Jones graduated in 1995 with a B.S. degree in finance. She has since established herself as a leader with more than 20 years in the utility industry. Her experience spans across electric operations, regulatory, finance and accounting.
As the current vice president of Black Hills Energy's electric segment, she has responsibility for three of the company's electric utilities, independent power generation and coal mine businesses.
"We are pleased to host Marne at the School of Energy Resources," says Kara Fornstrom, director of the SER's Center for Energy Regulation and Policy Analysis. "She has accomplished so much throughout her career, and we are excited to hear her insights on the changing energy landscape and the career path that has led to her success. It is important for our students to realize the potential professional opportunities they have after receiving a degree from UW."
About Black Hills Corporation
Black Hills Corp. is a customer-focused, growth-oriented utility company based in Rapid City, S.D. The company employs more than 2,800 employees who serve 1.3 million customers with natural gas and electric utility services in Arkansas, Colorado, Iowa, Kansas, Montana, Nebraska, South Dakota and Wyoming.
Contact Us
Institutional Communications
Bureau of Mines Building, Room 137
Laramie
Laramie, WY 82071
Phone: (307) 766-2929
Email: cbaldwin@uwyo.edu