Michelle Blakely
Michelle Blakely holds a Ph.D. in Social and Behavioral Sciences and a M.Ed. in Counseling from Auburn University. She graduated Summa Cum Laude with Psychology Departmental Honors from the University of South Alabama. Dr. Blakely is a National Certified Counselor (NCC) and a Motivational Interviewing (MI) expert. She is affiliated with the Wyoming Institute for Disabilities (WIND) in improving communication between healthcare professionals and patients who are deaf or hard of hearing. Dr. Blakely was faculty at the University of Connecticut (UConn) in the Department of Pharmacy Practice, and Director of Disability Services at Truman State University before coming to the University of Wyoming.

Dr. Blakely's fields of specialization are social and behavioral sciences, communications, health policy and patient health outcomes. Her research areas focus on increasing knowledge and understanding of factors that impact the pharmacist-patient relationship and behavioral aspects of medication adherence. She explores patient and provider self-reported psychosocial variables to obtain a better understanding of health behaviors and behavioral interventions on patient outcomes. Dr. Blakely is particularly interested in identifying factors that impact healthcare relationships as they pertain to vulnerable and/or underserved patient groups such as patients with developmental disabilities.
Dr. Blakely's UWyo Pharmacy Faculty Bio: http://www.uwyo.edu/pharmacy/faculty-and-staff-directory/michelle-blakely.html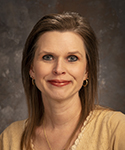 Michelle Blakely, Ph.D.
Assistant Professor of Social and Administrative Pharmacy
College of Health Sciences 490
(307) 766-6171 | mblakel4@uwyo.edu