Dept. of Theatre and Dance
Dept. 3951
1000 E. University Avenue
Laramie, WY 82071
Phone: 307-766-2198
Fax: 307-766-2197
Email:
jchapman@uwyo.edu
The Eminent Artist-in-Residence Endowment
In 2008, Wyoming's second state-endowed professorship, the Eminent-Artist-in-Residence, was funded by the Excellence in Higher Education Endowment through the Wyoming State Legislature, and awarded to UW's three Fine Arts departments - Art, Music, and Theatre & Dance - on a rotating basis. 
UW Theatre & Dance hosted Bill Bowers, UW's first Eminent-Artist-in-Residence, in 2008-2009, and the renowned Bill T. Jones/Arnie Zane Dance Company in 2011-2012. 
In 2014-2015, UW Theatre and Dance is thrilled to again host the Eminent Artist-in-Residence, this time the Actors from the London Stage (AFTLS), who will be in residence during spring 2015 to work with our students and to oversee a series of performances.  
A touring company from AFTLS will give also two performance sof MACBETH on March 7, 2015 at 2:00 p.m. and 7:30 p.m.
Annual Guest Artist Series
Each season, the endowment also supports our Guest Artist Series.  Over the past five years, we have hosted dozens of industry professionals, including top-notch talent in the performance, technical and design, and playwriting fields to lead workshops and master classes and to perform.  Artists have included, among others, famed scenic designer John Ezell; LA-based actor Craig Anton; acclaimed choreographer Peter Pucci; puppeteer and Theatre-for-Young Audiences expert Johanna Smith; movement and physical theatre specialist Paul Kalina, and fight choreographer Charlie Oates.
Visiting guest artists have provided stellar training and networking opportunities for our students and also learning and performance opportunities for the community at large.
Join us for AS YOU LIKE IT featuring the Actors from the London Stage!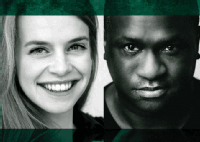 The celebrated Actors from the London Stage will be in residence at UW Theatre & Dance March 31 - April 6, and will perform AS YOU LIKE IT April 4 & 5 at 7:30 p.m. on the BCPA Main Stage.