Department of Geology and Geophysics
1000 E. University Ave., Dept. 3006
Laramie, WY 82071
Phone: 307-766-2646
Email:
geolmus@uwyo.edu
Museum Hours:
Open Monday-Friday 10 am- 4 pm
CLOSED SATURDAY & SUNDAYS
(Please note that we are now closed on Saturdays due to a series of recent thefts in the Geology Department. We greatly apologize for the inconvenience and will resume normal hours when security issues have been resolved. We'll post ASAP when we have a time line for reopening on Saturday.  Thank you for your understanding.)
Admission is always free!
The University of Wyoming Geological Museum in Laramie supports academic programs, scientific research and public education. It is overseen by the Department of Geology and Geophysics in the College of Arts and Sciences. The UW Geological Museum features a variety of displays to illustrate Wyoming's past environments, highlighted by a 75-foot Apatosaurus (Brontosaurus) skeleton that dominates the museum's exhibit hall. Another highlight is "Big Al," a display of the most complete Allosaurus fossil ever found. 
Samuel H. "Doc" Knight, the legendary Wyoming geologist, was an early museum curator. Knight painted one of the museum's large murals and constructed a campus landmark, the large, copper-plated Tyrannosaurus rex that stands outside the museum.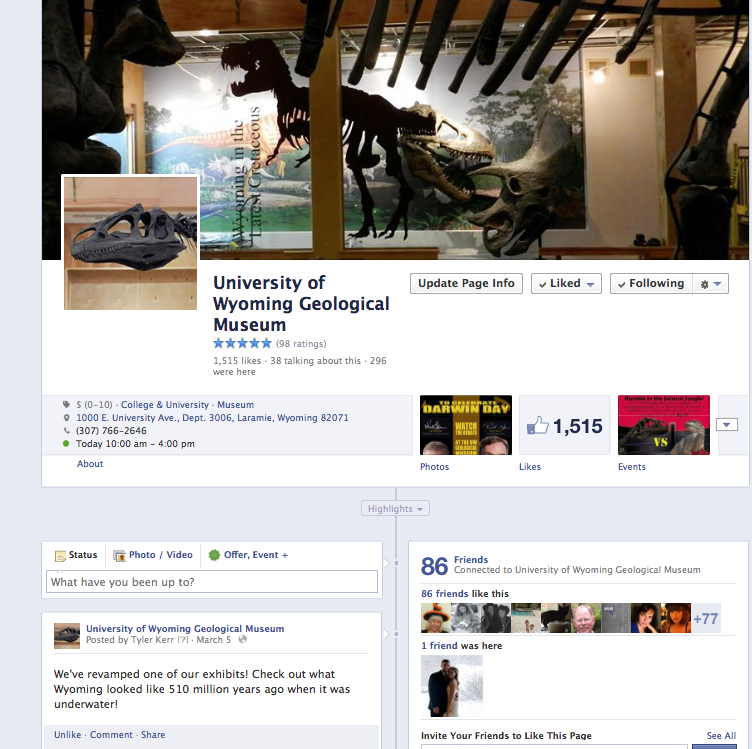 Take a look at the Geological Museum's Facebook page to stay up on the latest in the Museum!!