Connect
University of Wyoming Extension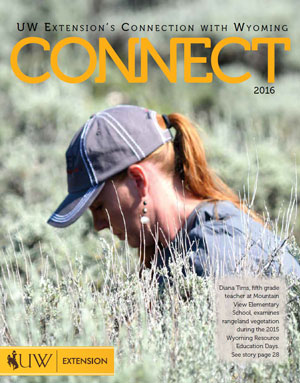 Articles in the 2016 Connect include:
Look what sprouted in northeastern Wyoming: The Hulett School Farm
Teams put cheatgrass control efforts under bright spotlight of public performance
Niobrara County extension responds to 500-year flood
Fremont County Farm and Ranch Days and WESTI Ag DAys: Turns out you rally can mix business and pleasure
Combine reading and nutrition and who knows what will happen? A lot!
Wyoming Conservation Exchange to put sagebrush on the market - for good
Annual programs logs 20th year teaching youths natural resource skills
---
Past Issues
Note! The newsletters are in Adobe Acrobat format. You will need an Acrobat reader to view and print them. You will also need to configure your WWW reader to use Acrobat as a helper application. Follow this link to obtain the free reader and for excellent instructions on configuring your WWW software.