University of Wyoming Extension
Department #3354
1000 E. University Ave.
Laramie, WY 82071
Phone: (307) 766-5124
Email:
glen@uwyo.edu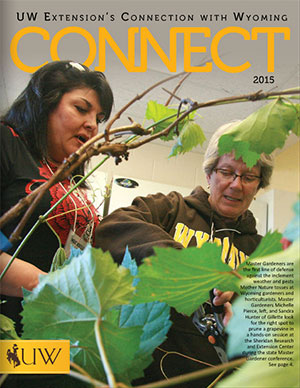 Articles in the 2014 Connect include:
Extending into a new century: UW Extension celebrates its history

World war, strikes, but sessions continue as interests change
Early educator travel by mail carrier, motorcycle, railroad
A shotgun, a rancher, and corn
"I can't even describe accurately and adequately how much 4-H influenced me in my life"
60 years of UW Extension's 100

Diabetes direction
Where the rub meets the road
Growing the mastery of livestock production
Long-distance learning
Dollars to doughnut or cents to savory
Girl power in a range way
Going for the green
---
Past Issues
Note! The newsletters are in Adobe Acrobat format. You will need an Acrobat reader to view and print them. You will also need to configure your WWW reader to use Acrobat as a helper application. Follow this link to obtain the free reader and for excellent instructions on configuring your WWW software.