Rocky Mountain Herbarium
Rocky Mountain Herbarium - 1893
U. S. Forest Service National Herbarium – 1911
W. G. Solheim Mycological Herbarium – 1929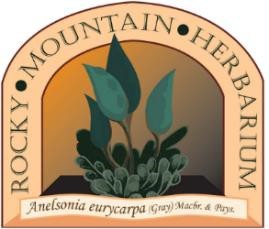 Department of Botany
     Welcome to the Rocky Mountain Herbarium Webpage. We are also home of the U. S. Forest Service National Herbarium (USFS). For more details on program and activities, see About the RM. The Solheim Mycological Herbarium is especially rich in parasitic fungi of the region. Also at UW is the Alan A. Beetle Grass Herbarium (Ecosystem Science).
     The RM Specimen Database is a window into the collections (1.3 million). It contains 850,000 specimen records that may be searched and the species distributions displayed. Included are images of 5,900 nomenclatural types and 140,000 other collections. Of these, 640,000 specimens were acquired through our program in floristics.
     The RM Library (UW Libraries), contains more than 5,000 printed volumes, 4,600 microfiche titles.
     Links are provided to the Wyoming Natural Diversity Database and the UW Library Digital Collections. Larry Schmidt, UW Libraries, has taken the lead in this venture. It contains images of federal, state, and private herbaria in the region and the northwestern Great Plains. Of note are collections from Yellowstone, Grand Teton, and Jewel Cave National Parks, Bandelier and Devils Tower National Monuments, and Teton Science School and Casper College.
Curator: Burrell "Ernie" Nelson
Location: Aven Nelson Building, Third Floor
          UW Campus (See Google Map)
          9th Street at University Ave.
Mailing Address: 1000 E. University Ave.
          University of Wyoming
          Laramie, Wyoming 82072-3165
Hours: Monday – Friday
          7:30 am – 4:30 pm
Bryophyte Collection –Yelena Kosovich-Anderson, Curator, Research Associate
Research Associates –Charmaine H. Delmatier, Robert D. Dorn, Walter Fertig, James F. Fowler, Bonnie L. Heidel, Richard K. Rabeler, Lawrence O. Schmidt
Management Team –Greg Brown, Director, Ernie Nelson, Curator, Charmaine Delmatier, Director of Volunteer Program, Ron Hartman, Professor, Curator Emeritus, Bonnie Heidel, WYNDD, Kristina Hufford, Ecosystem Science, Larry Schmidt, UW Libraries, Dorothy Tuthill, Berry Biodiversity Conservation Center
RM Floristics Program
Graduate Program Information:
          Professor Gregory K. Brown
          Also: UW Graduate Education
Wyoming Natural Diversity Database (WYNDD)
For news and stories about RM and the Volunteer Program, check out RM Friends newsletter.