Contact Us
Institutional Communications
Bureau of Mines Building, Room 137
Laramie
Laramie, WY 82071
Phone: (307) 766-2929
Email: cbaldwin@uwyo.edu
Righetti Named UW's Occidental Chair in Energy and Environmental Policies
August 24, 2022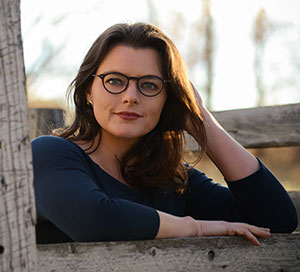 Tara Righetti
Tara Righetti is the inaugural Occidental Chair in Energy and Environmental Policies, an endowed chair jointly administered by the University of Wyoming's School of Energy Resources (SER) and the Haub School of Environment and Natural Resources.
The chair is in parallel to the Occidental Chair in Energy and Environmental Technologies, held by chemical engineering Associate Professor Saman Aryana.
Righetti, a law professor, teaches in both SER and the UW College of Law, where her research focuses on governance, property and administrative law issues related to energy development and carbon removal, including on split estates and federal lands.
She says she is honored to be named the inaugural Occidental Chair in Energy and Environmental Policies.
"I am grateful for the tremendous foresight and generosity of Occidental in creating these endowed chairs to drive energy innovation," Righetti says. "I look forward to further developing a research program related to industrial decarbonization and carbon removal while also addressing critical policy issues associated with climate change and a transformative energy landscape."
The Occidental Chair in Energy and Environmental Policies is one of two endowed chairs at UW created from a generous gift by Occidental. The policy-focused chair complements the Chair in Energy and Environmental Technologies to promote enhanced oil recovery technologies and cutting-edge carbon capture, use and storage (CCUS) projects. The donor's intent is to allow the collaboration of the two chairholders to advance CCUS in Wyoming.
Occidental is among the largest oil producers in the U.S., including being a leading producer in the Permian and DJ basins, and offshore in the Gulf of Mexico.
"Professor Righetti's expertise and contribution to the field of CCUS policy is unparalleled, not only at UW, but also across the nation and internationally," says SER Executive Director Holly Krutka. "We are so pleased that the right person for the chair was already in our midst and that we can recognize Professor Righetti for her leadership and focus on a topic that is so important to Occidental, Wyoming and the world."
Righetti is a recognized leader who engages with local, regional and national natural resource agencies and energy regulators, private industry, conservation organizations and communities. Her ability to build capacity across disciplines on a variety of energy topics is matched only by her dedication to engage with federal and state officials in support of the deployment of CCUS -- an exceptional example supporting UW's land-grant mission, Krutka says.
Righetti joined UW's faculty in 2014 and has worked to provide important scholarship for her discipline, informative resources for the Wyoming natural resources community, and educational opportunities for students. She has been an influential legal expert in the Rocky Mountain region, tackling research across the energy spectrum in hydrogen, nuclear, fossil fuel and renewable energy generation, land use and decarbonization.
A prolific writer, Righetti has published peer-reviewed articles in leading law journals both nationally and internationally. Her scholarship is regularly cited for her aptitude and excellence related to policy and regulatory aspects of CCUS, particularly the storage of CO2 in the subsurface and especially in federal pore space -- a topic of significance to Wyoming.
Regularly sought for her expertise and aid on major energy and carbon storage projects nationwide, she is a renowned expert on U.S. energy law. In 2018, she was appointed as a trustee-at-large with the Rocky Mountain Mineral Law Foundation and was awarded tenure in the UW College of Law in 2020.
"This is a well-deserved reflection of the diligent efforts by Professor Righetti to distinguish herself as a prominent legal scholar and voice in discussions about a new energy mix at UW," says College of Law Dean Klint Alexander.
Newly returned from the Centre de Recherche Droits et Perspectives du Droit at the University of Lille College of Law in France, Righetti completed a year of collaborative research as a Fulbright Scholar. During her year abroad, she worked with faculty on projects related to the international governance of CCUS, including integration of CCUS in the circular economy and the certification of carbon removal from CCUS under European Union law.
"Professor Righetti has a proven track record of research, teaching and outreach at the nexus of energy and the environment," says Haub School Dean John Koprowski. "Along with her impressive experience and background, she has a genuine interest and dedication in enhancing thought and promoting discussion on topics so important to our state and region. We are confident in her capacity to advance the Haub School's reputation and vision in the fields of energy and environmental policy, and we welcome her collaborative spirit for interdisciplinary efforts."
Contact Us
Institutional Communications
Bureau of Mines Building, Room 137
Laramie
Laramie, WY 82071
Phone: (307) 766-2929
Email: cbaldwin@uwyo.edu