Contact Us
Institutional Communications
Bureau of Mines Building, Room 137
Laramie
Laramie, WY 82071
Phone: (307) 766-2929
Email: cbaldwin@uwyo.edu
UW Department of Music Hosts Guest Pianist Diego Caetano Aug. 29
August 23, 2022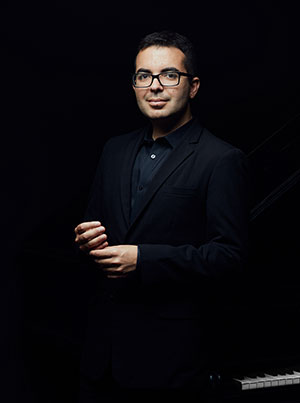 Diego Caetano
Diego Caetano, a 2012 University of Wyoming alumnus from Brazil, opens the Department of Music's fall season with a piano recital Monday, Aug. 29, at 7:30 p.m. in the Buchanan Center for the Performing Arts recital hall. The recital is free and open to the public.
The program focuses on French-inspired music, with rare gems by García-Abril, Chaminade and Poulenc.
Considered "a gifted pianist with a brilliant technique and musicality," according to the Italian daily newspaper La Stampa, Caetano performs widely as a soloist and chamber musician. He has performed throughout the United States, Brazil, Chile, Europe, Asia and Africa. He has performed at New York City's Carnegie Hall, Yokohama's Philia Hall, Lisbon's Palácio da Foz, Rio de Janeiro's Sala Cecília Meireles and London's Royal Albert Hall.
He has worked with renowned conductors such as Guilherme Bernstein, Rodrigo de Carvalho, Daniel Guedes, Paul Hostetter, Joaquim Jayme, Michael Palmer and Neil Thomson. Caetano has been featured in recitals and concerto appearances at the Grand Teton Music Festival, Louisiana International Piano Series, Durango's Conservatory Music of the Mountains, Bangkok's Asia Pacific Saxophone Academy and Brasília's International Music Festival.
An advocate for contemporary music, he has premiered works by composers such as Bernstein, Roger Goeb, UW Department of Music Professor Anne Guzzo, Marlos Nobre and Robert Spillman.
Caetano maintains an active schedule as an educator, frequently serving as a master class clinician and competition adjudicator in universities and conservatories around the globe. He also presents at various national and international conferences about pedagogical works by Brazilian composers, effective practicing techniques and performance anxiety. His students have received prizes at national and international piano competitions.
He is a member of Duo Lispector with Russian violinist Evgeny Zvonnikov and a member of Resch-Caetano Duo with German tenor Richard Resch. Caetano recently released the CD "French Connection: Violin Sonatas of the 20th Century" with Zvonnikov for the Italian-Japanese label DaVinci Classics. Caetano has received the top prizes in more than 50 national and international piano competitions.
Besides his UW master's degree in music, he earned a doctoral degree in musical arts from the University of Colorado and a bachelor's degree in music from Universidade Federal de Goiás in Brazil. The list of professors he has studied with includes UW Department of Music Professor Theresa Bogard.
He is the co-founder and artistic director at Ávila International Music Festival in Ávila, Spain, and was the president of the World Piano Teachers Association Texas chapter from 2016-2021. Caetano currently is an assistant professor of piano at Sam Houston State University and is a Shigeru Kawai Artist.
For more information, call Kathy Kirkaldie, fine arts programs coordinator, at (307) 766-2160 or email kirisk@uwyo.edu.
Contact Us
Institutional Communications
Bureau of Mines Building, Room 137
Laramie
Laramie, WY 82071
Phone: (307) 766-2929
Email: cbaldwin@uwyo.edu