Contact Us
Institutional Communications
Bureau of Mines Building, Room 137
Laramie
Laramie, WY 82071
Phone: (307) 766-2929
Email: cbaldwin@uwyo.edu
UW School of Pharmacy Conference Examines Legal Aspects in Pharmacy Practice
August 2, 2022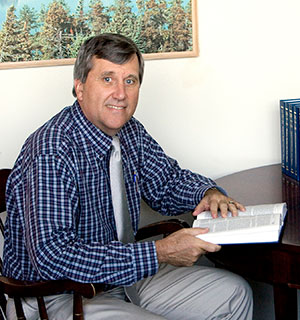 David Brushwood
The University of Wyoming's School of Pharmacy recently hosted its inaugural Legal Aspects in Pharmacy Conference, including a number of presenters highlighting how rules, regulations and laws impact the practice of pharmacy.
Providing information and cases to review with the attendees was at the forefront of the speakers' presentations.
Participants came from Wyoming, Colorado, Michigan, New Jersey, North Carolina, South Dakota, Utah and Wisconsin, bringing diverse pharmacy backgrounds including community and institutional pharmacy and regulatory consultants. This broad range of pharmacy backgrounds provided great opportunity for participants to discuss how national legal issues impact the regions where they practice.
The gathering at the UW Conference Center covered case studies in pharmacy and legal consequences from around the world. David Brushwood, senior lecturer with the UW School of Pharmacy's online master's degree in health services administration program, was the lead presenter and used his more than 40 years of expertise to guide attendees in dialogue to share understanding and viewpoints.
"It was both challenging and rewarding to provide an overview of the many recent regulatory changes that have expanded the legal responsibilities of pharmacists," Brushwood says.
The conference also included breakout sessions that included legal challenges for the pharmacist-in-charge, led by Elliott Sogol, director of postgraduate and continuing education in the UW School of Pharmacy; legal challenges in pharmacy experiential learning, led by Kathy Schott, vice president for education and operations with CEimpact; and legal challenges in pharmacy residency programs, led by Suzanne Feeney, vice president for strategy and business with CEimpact. The sessions incorporated discussion among participants and presenters to dive further into topics.
In addition to the sessions, participants attended an evening reception that provided networking opportunities to engage with new contacts.
The overall program evaluation received a 6.5 out of 7 (7 being the highest rating), and the program received positive feedback. Participants' comments included: "Great program! Very insightful"; "Topics in the news were very timely"; "Good opportunity for networking and information exchange"; and "Knowledgeable speakers." One participant highlighted the fact that the program included up-to-date issues as recent as one week before the session.
The UW School of Pharmacy plans to host its next Legal Aspects in Pharmacy Conference in summer 2023.
Contact Us
Institutional Communications
Bureau of Mines Building, Room 137
Laramie
Laramie, WY 82071
Phone: (307) 766-2929
Email: cbaldwin@uwyo.edu