Contact Us
Institutional Communications
Bureau of Mines Building, Room 137
Laramie
Laramie, WY 82071
Phone: (307) 766-2929
Email: cbaldwin@uwyo.edu
UW's Trumbull Receives Top National Collegiate Mail Services Award
August 22, 2022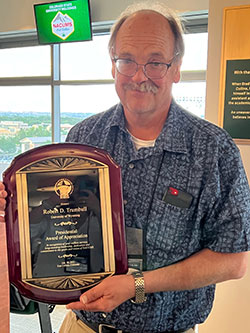 Bob Trumbull
Bob Trumbull, the University of Wyoming Postal Services manager, recently received the Presidential Award from the National Association of College and University Mail Services (NACUMS) for his long-standing leadership and dedication to the position.
Trumbull received his award during the annual NACUMS conference in Fort Collins Colo. He was the lone recipient of the top award, while four others received honors in different categories from the association.
The Presidential Award is in recognition of long-standing leadership, dedication and commitment to the goals and vision of NACUMS and to "honor members who have made significant contributions to the association, industry and their individual institutions."
"I did not expect to receive the Presidential Award," Trumbull says. "My supervisor, Tod Scott, did come down to the awards banquet and saw the presentation that was for me. It was very emotional."
Trumbull says he works with a good group from UW and NACUMS colleagues from around the nation. He has been an elected board member for almost 40 years and was one of the association's founding members.
Contact Us
Institutional Communications
Bureau of Mines Building, Room 137
Laramie
Laramie, WY 82071
Phone: (307) 766-2929
Email: cbaldwin@uwyo.edu