Contact Us
Institutional Communications
Bureau of Mines Building, Room 137
Laramie
Laramie, WY 82071
Phone: (307) 766-2929
Email: cbaldwin@uwyo.edu
UW's Wyoming Institute for Disabilities Speech-Language Pathologist Honored
August 5, 2022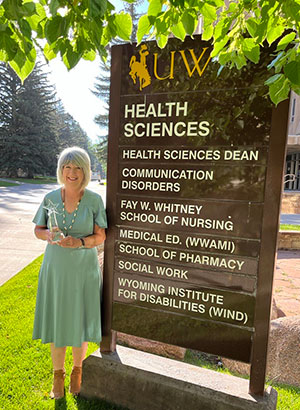 Terri Wofford
A speech-language pathologist at the University of Wyoming's Wyoming Institute for Disabilities has been awarded the 2022 Bright Star Distinguished Educator Award by the Wyoming Governor's Council on Developmental Disabilities.
Terri Wofford received the honor that recognizes outstanding performance by individuals identified by both their peers and community as having consistently excelled in the field of disabilities within the education system.
While Wofford wears many hats at the Wyoming Institute for Disabilities -- an academic unit of the College of Health Sciences -- this award recognizes her work as an educator and advocate for people with disabilities. She provides training and technical assistance to speech-language pathologists around the state in the assessment, implementation and use of augmentative and alternative communication.
Her instruction has increased the knowledge and abilities for speech-language pathologists statewide who integrate communication strategies for students with disabilities.
Recently, Wofford advocated for changes to Wyoming Medicaid to support the purchase of augmentative and alternative communication devices for those in need. She was tenacious in her advocacy for change, leading to a new policy that now covers augmentative and alternative communication under Wyoming Medicaid.
Learn more about Wofford's work with assistive technology and augmentative and alternative communication at www.uwyo.edu/wind/watr.
Contact Us
Institutional Communications
Bureau of Mines Building, Room 137
Laramie
Laramie, WY 82071
Phone: (307) 766-2929
Email: cbaldwin@uwyo.edu