Contact Us
Institutional Communications
Bureau of Mines Building, Room 137
Laramie
Laramie, WY 82071
Phone: (307) 766-2929
Email: cbaldwin@uwyo.edu
UW's Wyoming SBDC Network to Host Economic Diversification Conference Sept. 21
August 30, 2022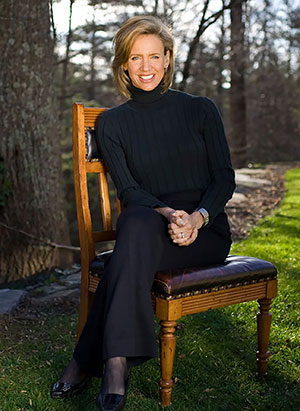 Meridith Powell
The Wyoming Small Business Development Center (SBDC) Network will host the Wyoming Small Business Economic Diversification Conference Wednesday, Sept. 21, from 9:30 a.m.-4 p.m. at the Best Western Downtown Casper Hotel, formerly the Clarion Inn, at 123 W. E St.
The event is open to small-business owners, economic development partners, and local and regional government officials. Cost of the event, which includes lunch, is $30 before Thursday, Sept. 8. The price increases to $45 beginning Sept. 8. To register for the conference, go to www.wyomingsbdc.org/events/wyoming-small-business-economic-diversification-conference-2/.
"Keynote speaker Meridith Powell will lead workshops and present strategies for economic diversification," says Maureen Johnson, CARES Act recovery program manager for the Wyoming SBDC Network, which is housed at the University of Wyoming. "We also will be featuring a panel of business resource partners from across the state."
Powell, a national speaker and author of the book "Thrive: Strategies to Turn Uncertainty to Competitive Advantage," has a background in corporate leadership and sales. Her career has been across several industries, including banking, health care and finance. She is a master certified strategist, executive coach and certified speaking professional, a designation held by less than 12 percent of professional speakers. Additionally, Powell is an invitation-only author for LinkedIn, having published more than six courses on its education networks. She is regularly featured in publications such as Forbes, Fast Company Inc., Investment News and American Banker.
For more information about the conference, call Johnson at (307) 343-0925 or email mjohn125@uwyo.edu; or email Paul Johnson, the Wyoming SBDC Network's associate state director and conference organizer, at pjohns45@uwyo.edu.
The Wyoming SBDC Network offers business expertise to help Wyoming residents think about, launch, grow, reinvent or exit their business. The Wyoming SBDC Network is hosted by UW with state funds from the Wyoming Business Council and funded, in part, through a cooperative agreement with the U.S. Small Business Administration.
For more information, go to www.wyomingsbdc.org.
Contact Us
Institutional Communications
Bureau of Mines Building, Room 137
Laramie
Laramie, WY 82071
Phone: (307) 766-2929
Email: cbaldwin@uwyo.edu