Contact Us
Institutional Communications
Bureau of Mines Building, Room 137
Laramie
Laramie, WY 82071
Phone: (307) 766-2929
Email: cbaldwin@uwyo.edu
Former CEO of Jackson Hole Mountain Resort to Speak at UW
November 22, 2022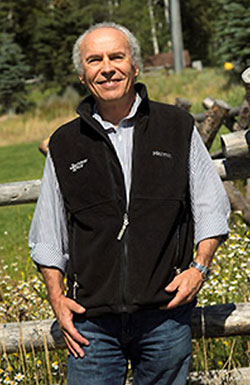 Jerry Blann
Jerry Blann, former president and CEO of Jackson Hole Mountain Resort (JHMR), will discuss the past, present and future of the ski industry at 6 p.m. Tuesday, Dec. 6, at the University of Wyoming.
His presentation is part of the UW Haub School of Environment and Natural Resources' Distinguished Speaker Series and sponsored by the Wyoming Outdoor Recreation, Tourism and Hospitality (WORTH) Initiative and the College of Business. His free public talk will be in Room 123 of the College of Business Building.
Blann, a former University of Denver All-American skier, has nearly 40 years of experience in the ski resort business and is among the most well-known and respected leaders in the North American ski industry. From 1995-2018, Blann was president and a board member of JHMR, where he oversaw the resort through several years of intense development, including the expansion of new lifts, replacement of Jackson Hole's iconic aerial tram and guiding the resort to nearly 650,000 skier visits annually.
During this time, JHMR was named the No. 1 ski resort in North America by SKI Magazine for the 2013-14 winter ski season and was rated No. 1 by Forbes magazine for six straight years.
Previously, Blann served as president of Bear Mountain Resort in California and Aspen Skiing Co., where he worked for 18 years. In addition to his role overseeing JHMR, Blann is a founding member of Jackson Hole AIR and is a former president of the Jackson Hole Airport Board. He also serves on many statewide and national organizations.
The Haub School of Environment and Natural Resources' Distinguished Speaker Series is a forum for environmental and natural resource leaders to share stories and inspire communities.
For more information, visit www.uwyo.edu/haub/events.
Contact Us
Institutional Communications
Bureau of Mines Building, Room 137
Laramie
Laramie, WY 82071
Phone: (307) 766-2929
Email: cbaldwin@uwyo.edu