Perioperative Nursing
Sean Rossetter
BSN, CNOR ('07)
---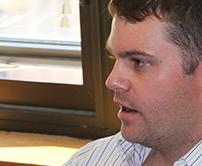 What drew you to this career?
To me, surgery is the most incredible area of medicine -- both fascinating and challenging. The operating room is heavily demanding, and I can be pushed to my limits both mentally and physically. We either save lives or make them better day to day; and at times, seconds can make the difference between a good outcome and a bad one. Working in this area involves being a patient advocate for safety, and orchestrating a cohesive team built out of the strongest personalities in medicine.
How did you prepare for it?
I worked as a CNA for three years in the hospital, both on the floor and in the operating room; in addition, I worked for a year as a nurse on the inpatient surgical unit. I was able to participate in the care of patients throughout their surgical experience. The operating room is incredibly specialized, but the experience I gained on the floor is extremely valuable in this setting. Time management and organization are key.
What do you like the most about this career?
Opportunity! Once you have established yourself as a perioperative nurse, you can go anywhere. There's always room for advancement whether you want to specialize within surgery, become a first assistant, an educator or coordinator of a specific service, manager, or director. Some facilities allow a nurse to follow patients through the perioperative experience. Getting patients ready for surgery, taking them to surgery and being with them there, and then recovering them in the post anesthesia care unit.
What are the biggest challenges?
Like many other areas of nursing, staying up to date is critical and time consuming. We are also responsible for running various types of equipment. Technology is everywhere, and learning how to operate them all -- even if you do not use it everyday -- can be especially challenging. Also, while working closely with physicians, there is a lot of pressure to perform quickly and correctly.
What advice would you have for a student interested in this field?
Being an operating room nurse is not for everyone, and you may not get the patient interaction that you seek. It's a much different type of nursing, but still nursing. AORN.org has a lot of information about the profession and may help you to get on your way. At the same time you can become an operating room nurse right out of school; I suggest working on an inpatient unit for at least a year before specializing in surgery. Seek out opportunities to observe and ask questions!
Extra info about Sean Rossetter:
Rossetter is currently the OR Supervisor at Ivinson Memorial Hospital.