For additional information contact:
Manager of Pharmacy Student Services
University of Wyoming
Dept. 3375
1000 E. University Ave 
Laramie, WY 82071
Phone: (307) 766-6132
FAX: (307) 766-2953
Admissions
The University of Wyoming School of Pharmacy offers a four-year program of study leading to the Doctor of Pharmacy (Pharm.D.) degree as the only entry-level professional degree in pharmacy. Students are admitted to the professional program following a preprofessional program of not less than two years in length with a total of at least 67 semester credit hours.
Pharmacists play key leadership roles in all aspects of the healthcare system and are compassionate professionals who help people make the best and safest use of their medications. Graduates of the University of Wyoming School of Pharmacy find gainful employment in varied areas of pharmacy including community, academia, hospital, pharmacy industry and government agencies.
Explore your future at the University of Wyoming School of Pharmacy!
Learn more about careers in pharmacy
Is Pharmacy for You? - resources from the American Association of Colleges of Pharmacy (AACP) about pharmacy education and careers

Pharmacy is Right for Me - for middle- and high-school students providing interactive tools, resources, and insight into the diverse career opportunities within the field of pharmacy
Fall 2013 filing period is closed
The filing period for fall 2013 admission has closed. We do not accept late applications.
Please check back later for information about the fall 2014 filing period.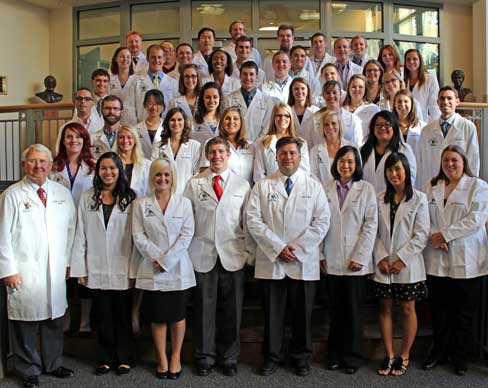 The University of Wyoming School of Pharmacy welcomed members of the class of 2016 into the professional pharmacy program in August 2012. First-year professional students attended two days of orientation, followed by the "white coat ceremony" where they were congratulated by Dean John Vandel with family and friends in attendance. (photo by Jeff Gilmore Photography)
Share This Page: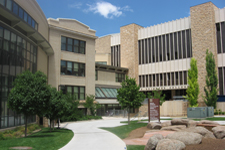 The University of Wyoming School of Pharmacy is known for excellence in pharmacy education. Located in Laramie, Wyoming, a beautiful area known for abundant sunshine and year-round recreational opportunities, the school is part of the Health Sciences Center located on the University of Wyoming campus.
Visit Our Photo Slideshow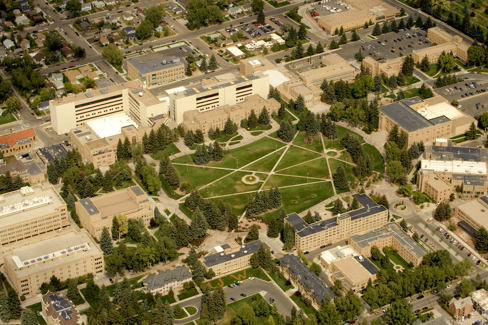 The University of Wyoming School of Pharmacy is located in Laramie, which is in southeast Wyoming about 45 miles west of Cheyenne, the state capital. Laramie is a city of about 30,000 and is in a valley between the Snowy Range and Laramie Range mountains. Click on the link below to see a slideshow of this beautiful area. The photos are of the University of Wyoming campus, the School of Pharmacy and the Laramie area.