Alumni News December 2012
The University of Wyoming School of Pharmacy would like to help you share news about you and your family with your classmates and colleagues! News and updates can be about anything, including your job, appointments, promotions, training, certifications, awards, presentations, marriages, births of children or grandchildren. We want to hear from you! Let us know of happenings in your life and we will share them in our new "Alumni News" feature in our newsletters. Please send news and updates to cmjones@uwyo.edu.
Current updates about our alumni: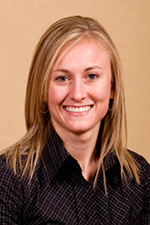 Lindsey Poppe, Pharm.D. ('09), M.S., BCPS, is featured in the December issue of Pharmacy Today. The article titled, "Progressive pharmacy roles advance patient care at UNC hospitals," highlights Poppe's work as the clinical manager for the oncology service line and emergency department services at the University of North Carolina Hospitals (UNC). Poppe facilitated the implementation of a new practice model to improve patient care through direct care services and launched a first-of-its kind stewardship program for blood factors used by patients with hemophilia.
Susie Jing Shaw (B.S.P. '81), formerly Susie Jing Lew, lives in York, Maine, and is a staff pharmacist for CVS Pharmacy. Shaw has worked for CVS since October 1982 and works out of Portsmouth, New Hampshire. She is married to David Q. Shaw and they have three children ages 23, 25, and 27. Susie writes there are no grandchildren as of yet.