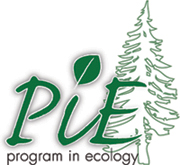 ecology@uwyo.edu
307-766-6240
Program in Ecology
Student Invited Speaker
Dr. Eric Pianka, University of Texas

October 4-5, 2012
Hosted by the UW's Program in Ecology

Denton A. Cooley Centennial Professor of Zoology
University of Texas in Austin
Seminars
Public seminar: "Why can't humans share Spaceship Earth?"
Thursday, October 4 at 12:30pm, Berry Center 138
Not available on WyoCast, sorry!
Research seminar: "Rarity in Australian Desert Lizards: Why are so many species rare?"
Thursday, October 4 at 4:10pm, Berry Center 138
Reception at 3:40pm, Berry Center Lobby
Not available on WyoCast, sorry!
About Eric Pianka:
Eric R. Pianka earned a B. A. from Carleton College in 1960, a Ph.D. from the University of Washington in Seattle in 1965, and the D. Sc. degree or his collected works in 1990 from the University of Western Australia. He was a postdoctoral with Robert H. MacArthur at Princeton University during 1966-68. He is currently the Denton A. Cooley Centennial Professor of Zoology at the University of Texas in Austin, where he has taught evolutionary ecology since 1968.
Pianka has presented hundreds of invited lectures at most of the world's major academic institutions as well as several important plenary lectures. During his 45 year academic career, Eric Pianka sponsored 20 graduate students and published well over a hundred scientific papers, four of which became "Citation Classics," as well as dozens of invited articles, book chapters, and 18 books including an autobiography. His classic textbook Evolutionary Ecology, first published in 1974 went through seven editions, has been translated into Greek, Japanese, Polish, Russian and Spanish, and is now available as an eBook.