School of Energy Resources
Dept. 3012
1000 E. University Avenue
Laramie, WY 82071
Phone: 307-766-6879
Fax: 307-766-6701
Email:
ser@uwyo.edu
Physical Location
1020 E. Lewis St.
Energy Innovation Center 330
Laramie, WY

Academics Office
Energy Innovation Center 338
Phone: 307-766-6879
Fax: 307-766-6701
Email:
seracad@uwyo.edu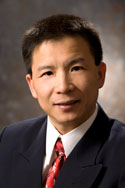 Dr. Maohong Fan
Dr. Maohong Fan is an SER Associate Professor of Chemical Engineering in the Department of Chemical and Petroleum Engineering. He has led and worked on many projects in the areas of clean energy production and environmental protection. These projects have been supported by various  domestic and international funding agencies such as NSF, DOE and EPA in the United States, NEDO in Japan, and industrial companies such as Siemens and Caterpillar.  He has helped many chemical, environmental and energy companies solve their difficult technical problems.
Education
Ph.D. Chemical Engineering, Osaka University 2003
Ph.D. Mechanical Engineering, Iowa State University 2000
Ph.D. Environmental Engineering Chemistry, Chinese Academy of Sciences 1997
Research Interests
Clean coal technologies
Syntheses and applications of new materials including catalysts and sorbents
Clean energy production
His current research interests include advanced coal technologies, syntheses and applications of new materials including catalysts and sorbents, clean energy production. 
Publications
Dr. Fan has published more than 100 papers in journals such as ACS' J. of Physical Chemistry-A/B/C, Energy & Fuels, Environmental Science & Technology, and Elsevier's Separation and Purification Technology.
Media Coverage
Share This Page: