Exhibits
In-House Exhibits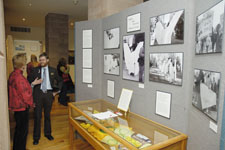 Although the AHC is not a museum, small exhibits highlighting AHC collections are on display throughout the year. A premier collection of Western art, including paintings by Henry Farny, Frederic Remington, and Alfred Jacob Miller, is on permanent display in the AHC's Gallery One and George A. Rentschler Room.
Virtual Exhibits
Several AHC Collections have been curated into virtual exhibits, giving a bitesize look into various topics using original material all housed in our facilities. Visit our Virtual Exhibits to browse exhibits online and check back often for new content.
Traveling Exhibits
The AHC has a number of traveling exhibits available to museums, libraries, and other institutions at nominal cost. In a typical year, approximately 35,000 people view our traveling exhibits in venues across Wyoming and beyond. To learn more, visit our Traveling Exhibits page.