Spring 2023
Construction Workforce Training
---

---
Welcome to the Construction Workforce Training Program!
Step 1: Complete the Registration Questionnaire
If your company is interested in registering your employees for one and up to all four Construction Workforce Training modules, each employee must click on this hyperlink https://uwyo.sjc1.qualtrics.com to complete the registration questionnaire.
Step 2: A Registration Link Will be E-Mailed to You
A registration link and further information on the login and payment process will be e-mailed to each registered learner, once the questionnaire in step 1 has been submitted. Contact UW Associate Professor Francis Jacobs at fjacobs@uwyo.edu with any questions.
Step 3: Apply for Training Reimbursement
Training costs are refundable by the State of Wyoming through the "Wyoming Workforce Development Training Fund". The cost per module is $1,250 for each registered trainee. Payment is due prior to the training start date. Visit the Business Training Grant Webpage for reimbursement information.
---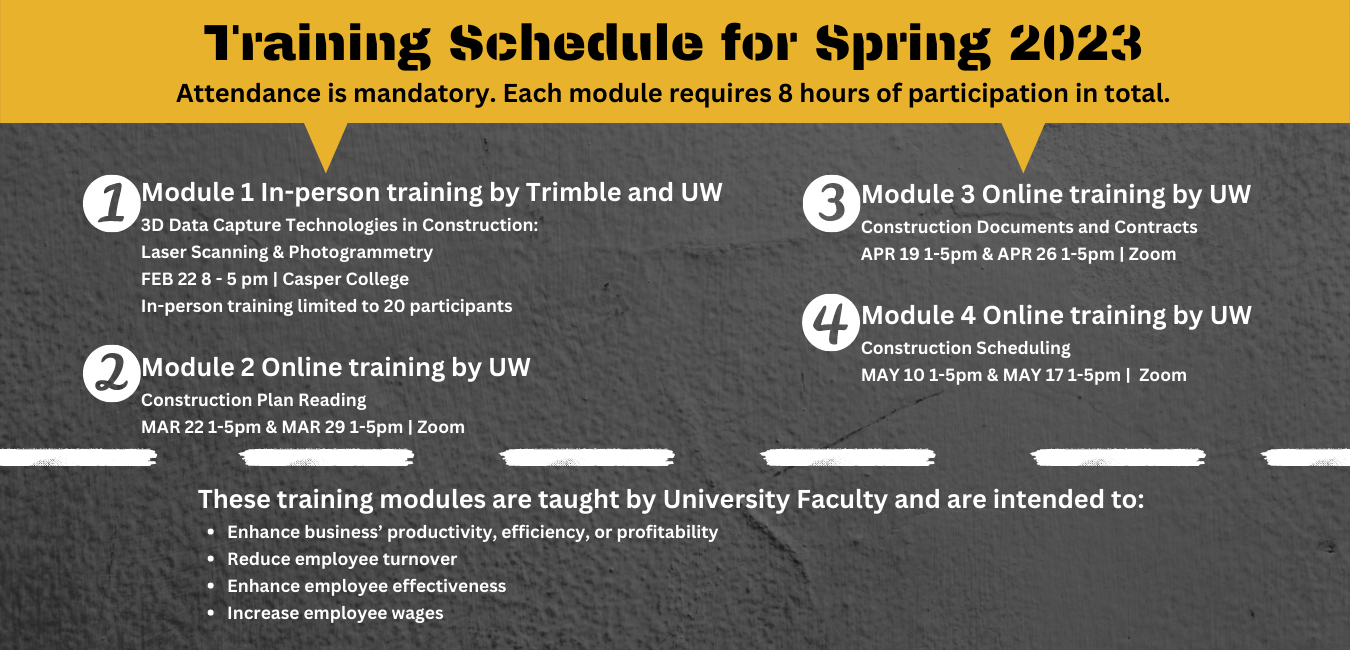 ---
Acknowledgment of Commitment to Training
Badging: Each section of a module gives trainees an opportunity to earn digital badges. To earn digital badges, trainees will fully participate in synchronous lectures, successfully complete quizzes, and submit post-training surveys. 
Certification: If trainees successfully earn two badges, they will earn a Certificate of Completion for the Construction Workforce Training Module. A Certificate of Accomplishment is awarded after the successful completion of all four training modules. The Construction Workforce Training certification is awarded by Civil and Architectural Engineering and Construction Management at the University of Wyoming.