Civil & Architectural Engineering
EN 3074
Dept. 3295
1000 E. University Ave.
Laramie, WY 82071
Phone: (307)766-2390
Email:
cae.info@uwyo.edu
Transportation Systems and Materials
The transportation network in America has real problems that are being addressed by the faculty in Civil Engineering. Of the nation's two million miles of paved roads, nearly two-thirds are in need of repair. The transportation program is actively involved in state and regional transportation research. Current research projects include pavement overlay design, materials, maintenance, and rehabilitation; transportation planning including infrastructure investment decision-making; intelligent vehicle and highway systems; analysis and enhancement of tourism; modeling of rural unpaved roads for rut resistance and road profile measurement techniques. Research laboratories exist for research in pavement and asphalt, fatigue testing and signal controller design and analysis. Faculty members are active in publications, extension and seminar activities.
Resources:
Curriculum: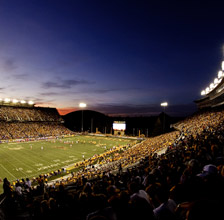 UW football: competing at the NCAA Division I-A level.
Faculty with research in this area: