Kris Koski, Esq.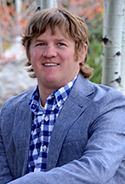 Kris Koski is the director for the Professional Land Management concentration within the academic program for Energy Resource Management and Development. He joined the School of Energy Resources faculty in the fall of 2017, and became PLM Director in the summer of 2020. In addition to his teaching, 
Mr. Koski is Of Counsel at Long Reimer Winegar LLP where he focuses his legal practice primarily in the oil, gas and natural resource areas of the law. Prior to joining Long Reimer Winegar LLP as an associate in July of 2011, Mr. Koski was an associate at a Houston, Texas based law firm where he represented oil and gas operators in the drafting and production of Drilling and Division Order Title Opinions. He is a proud Wyoming native and has a deep understanding of the energy industry in the Rocky Mountain Region.
Education
J.D., University of Wyoming College of Law (2008)
B.S., Colorado School of Mines (2005), High Scholastic Honors
---
Classes
Professor Koski teaches courses in Property Law I & II, Law of Contracts, Federal Public Lands Law, and Introduction to Land Management. 
---
Published Articles: 
Amy Petit, Kris Koski & Kipp Coddington, Secure Geologic Storage: 45Q, The ISO, and State Regulation, Institute for Energy Law's Online Newsletter - Energy Law Advisor, December 2019.

Kris Koski & Tara Righetti, Basic Mineral and Leasehold Conveyancing, Oil & Gas Mineral Title Examination, 4-1 Rocky Mt. Min. L. Fdn. (2019).

"Legal Analysis of Ground Water and Surface Water Conjunctive Management Within the Context of Wyoming Water Law", co-author as part of Wyoming Water Research Program Annual Technical Report FY 2009.

 "Ken Koski: a Man of Adventure – A Man of Integrity (1950-2006)", Wyoming Lawyer, June 2007.