UWYO Events Calendar Use Policies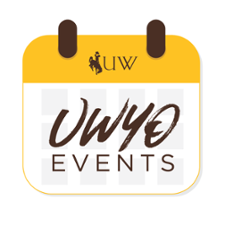 UWYO Events is the University of Wyoming's primary calendar for UW-sponsored events and programming on campus and around the state! UWYO Events provides a one-stop shop to find UW programming.
Who can submit?
Any member of the University of Wyoming community may submit events to the UWYO Events calendar.  Your UWYO.edu email address identifies you as a member of the UW community. 
What events can be posted?
Any event or program sponsored by a UW division/unit/college/department/affiliate or one of its recognized student organizations, whether on campus or around the state, may be posted: lecture series or talks, art, sporting events, professional development opportunities, alumni/recruiting engagement, K-12/community college collaboration, clinics, social events and more.  All UW engagement and outreach activities, whether open to the general public or not, may also be posted.  It's the perfect place to share news about UW and community partner programming throughout Wyoming and beyond.  When you submit your item, please check to ensure your information is correct.  If your event is political in nature, please be sure to follow these guidelines, which take priority over all other guidelines.
What cannot be posted?
Events and programs that are not sponsored by a member of the UW community will not be posted here.  UW will not post personal events or solicitations.  If your event is not intended for the campus community or general public, and it does not involve community engagement or outreach, please consider a more appropriate outlet.  Reminders and other follow-up submissions will not be posted.  UW reserves the right to edit or decline event submissions.
What information should I include?
Plan to include the title of the event, time, date, location, contact information, and a brief description.  Indicate whether tickets or RSVPs are required (online registration may be enabled for this purpose).  Remember that not all the people who would like to attend your event are familiar with the UW campus or regional venues, so include enough specific location information, including building names and room numbers.  UW reserves the right to edit your submission before it is posted.  Submit your calendar item at least 7-10 days in advance to allow time for moderator approval and give those who would like to attend enough time to plan for it.
Engagement and Outreach Reporting Feature
UWYO Events includes the means to report on engagement and outreach activities.  Therefore, you should include as much information as possible on funding sources, community partners, and attendance.  After an event takes place, submitters will be prompted to provide follow-up information.
Why was my request declined?
Your request may have been rejected if it did not meet the guidelines outlined above, is prohibited by UW policy, or the information you provided is not complete.
For more information
Please contact Central Scheduling for more information.