History and Culture Graduate Programs
Historical and cultural research is highly valued at the University of Wyoming.  The UW's unique geographic setting adds a layer of intrigue to history and cultural studies here.  Students studying in these fields develop skills to examine research topics with a local or regional lens, while simultaneously making connections with a global context.
Programs in this field
American Studies, M.A.
Anthropology, M.A. and Ph.D.
Geography, M.A. and M.S.T.
History, M.A.
International Studies, M.A.
Philosophy, M.A.
Political Science, M.A.
Psychology, M.A., M.S. and Ph.D.
Sociology, M.A.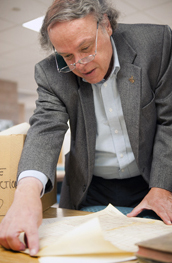 Professor Phil Roberts studies the history of Wyoming and the West. He is currently working on a comparative analysis of oil development in the American West and the Arab Middle East.