Friendships and Dating
Wyoming Institute for Disabilities (WIND) is partnering with the Wyoming Department of Health and the Wyoming Governors Council on Developmental Disabilities to implement a sexual and reproductive health training targeted at individuals with disabilities. The Sexual and Reproductive Health project is implementing the Friendships & Dating curriculum. Friendships & Dating is a preventative program that teaches individuals with intellectual and related developmental disabilities how to develop and maintain healthy relationships. The Friendships and Dating Program was developed by the University of Alaska Anchorage Center for Human Development, and WIND has been in partnership with the Center since 2015.
Friendships & Dating has been shown to reduce instances of interpersonal violence and increase participant's social network size. Friendships & Dating is designed to decrease rates of unintended pregnancies and sexually transmitted infections. It is a ten-week course, with participants meeting for class twice a week. The first class each week is held in a classroom setting and the second class will be held at different locations in the community to help reinforce skills participants learn in the classroom.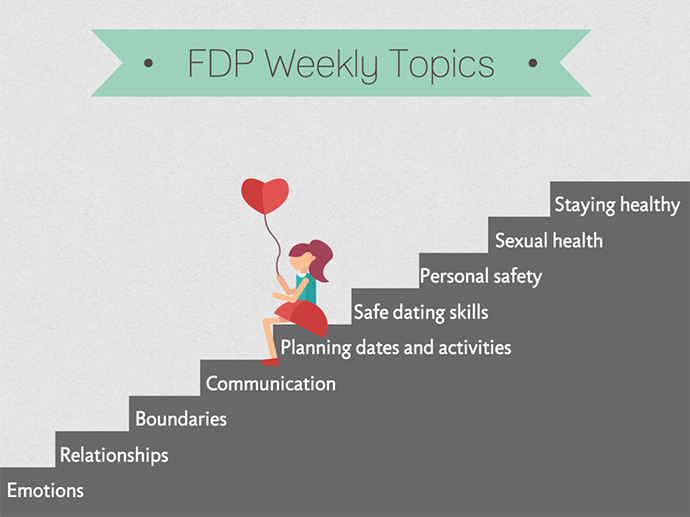 ---
The Friendships & Dating program supports learning in the following areas:
Introduction to Friendships & Dating

Feelings and emotions

Communication and meeting others

Types of relationships

Personal boundaries

Planning activities and dates

Safe dating skills

Personal safety

Sexual health

Staying healthy
---
Partnerships
This project is a partnership with the Wyoming Department of Health and the Wyoming Governor's Council on Developmental Disabilities.