Wyoming Energy News December 10
December 10, 2018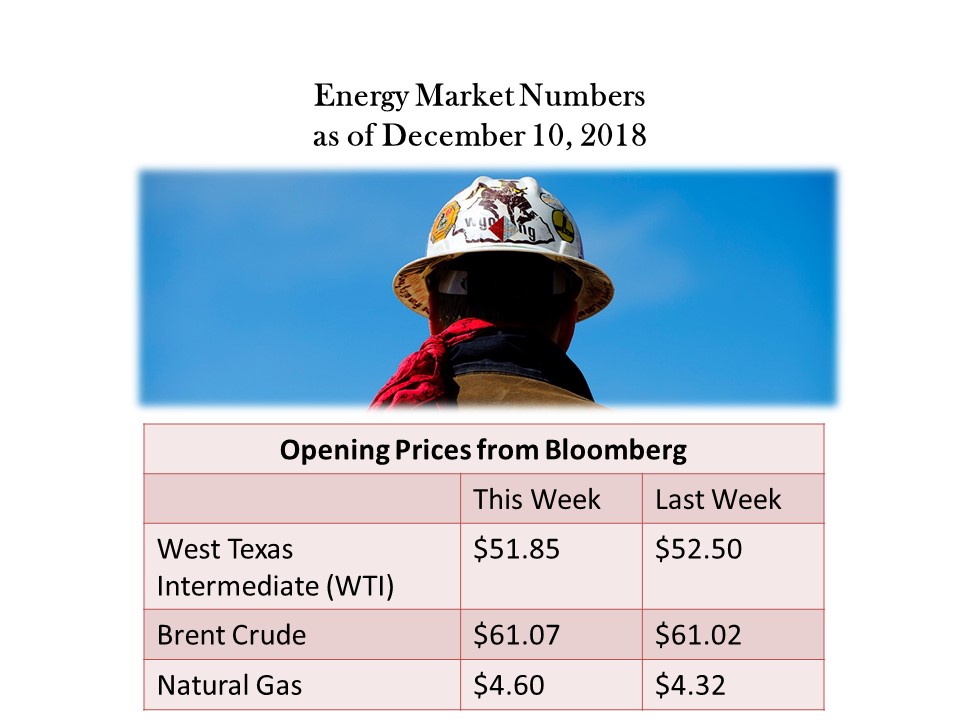 The School of Energy Resources frequently features information about the energy industry. Here is a summary of some of the highlights of recent stories:
Baker Hughes released its weekly rig counts:
The Wyoming Rig Count is holding steady at 30 rigs.
The US Rig Count is down 1 rig from last week to 1,075, with oil rigs down 10 to 877 and gas rigs up 9 to 198.
The US Rig Count is up 144 rigs from last year's count of 931, with oilrigs up 126 and gas rigs up 18.
Opening Prices from Bloomberg:
West Texas Intermediate (WTI) has gone from $52.50 last week down to $51.85.
Brent Crude has gone from $61.07 last week to $61.02.
Natural Gas has changed from $4.60 to $4.32 this week.
The Casper Star Tribune:


Prices have shot upwards for natural gas this winter after the market realized there likely wasn't enough in storage to keep the country warm. Likely just a seasonal blip, the higher prices have encouraged some in the state as oil prices have been sliding since October, with West Texas Intermediate now hanging on just over $50 a barrel. 
Drilling in Converse County is driving hiring in towns like Douglas, according to reporting from the Douglas Budget.
Wyoming Public Media:
Mountain West Oil Industry Reacts to OPEC Production Cuts