Characterizing the Subsurface: The People Behind the Projects
January 21, 2021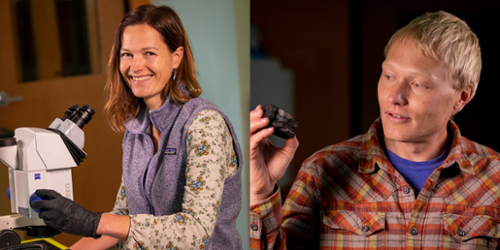 (Left) Dr. Erin Phillips; (Right) Davin Bagdonas examining coal samples for rare earth elements and critical minerals
The School of Energy Resources is engaged in many innovative energy solutions for the state of Wyoming. While the projects themselves are large-scale with the potential to be ground-breaking for the state and the economy, it is important to recognize the researchers that are actually on the ground doing the detailed and demanding work.
Two such researchers are scientists in the School of Energy Resources Center for Economic Geology Research (CEGR), Davin Bagdonas and Erin Phillips. With backgrounds in geochemistry and subsurface characterization, both Bagdonas and Phillips have been integral parts of multiple, high-profile research projects housed in SER.
CEGR engages in a wide variety of projects that stem from carbon capture utilization and storage (CCUS), unconventional oil & gas recovery, and critical minerals (CM) and rare earth elements (REE). Researchers in the center are highly collaborative with major overlap on projects, using their strengths to complement each other's work.
Phillips and Bagdonas have most recently emerged as leaders on rare earth element and critical mineral ventures for SER. Their backgrounds have been instrumental in their success and transition to REE-CM characterization.
Bagdonas currently serves as the principal investigator on three existing rare earth element related projects located in the Powder River Basin (PRB). Partnering with entities such as the Department of Energy (DOE) and the National Energy Technology Laboratory (NETL), these projects concentrate on the extraction technology development of coal and coal byproducts produced at coal fired power stations.
Work has included the characterization of multiple coal cores from the PRB and Green River Basin, as well as the characterization of coal fly-ash produced as a byproduct of coal combustion in power stations for rare earth elements.
In addition to looking to coal for the presence of REE-CM, other projects at SER continue to investigate the presence of rare earth elements and critical minerals in other sources. Collaborating with faculty and students in the UW Geology Department and the Wyoming State Geological Survey (WSGS), SER researchers investigated REEs in uranium roll front deposits. SER researchers and the UW Geology Department have also worked together to characterize REEs in sedimentary phosphate deposits. In 2018, CEGR completed a study examining the occurrence of REEs in produced water and geothermal brines.
Phillips and Bagdonas have made significant contributions to these characterization projects, working to fully depict the geological composition on a fine-scale level as it changes with depth.  
The goal is to better understand the occurrence and distribution of REE and CM across entire basins.
"Once we have geochemical and geospatial data from the area, researchers can start to put them into three-dimensional models to get an idea of the volumes of rare earth elements and critical minerals that are in the basin," she explains. "From there we can better understand how they are distributed and what geologic processes dispersed them in that particular place. This will help us to pinpoint other possible locations to find rare earth elements."
In an ongoing process to collect samples at different depths, Bagdonas traveled to the PRB to gather more core samples for analysis in November.
"I continue to focus on coal characterization across Wyoming in an effort to produce the highest resolution understanding of coal trace element chemistry in any western coals," says Bagdonas. "It is a team effort and I enjoy being able to make contributions to support the work of my colleagues in CEGR and their aspects of the research."
Their work along with other scientists at the SER has influenced the direction of coal research in the country and internationally, making SER one of the preeminent leaders of REE characterization and extraction in the western US.
Studies of the occurrence and distribution of REE and CM provide a more complete geological picture of the state, reducing uncertainties about the composition of the subsurface and allowing researchers to provide better predictions and informed decisions about resource development.
One of the most rewarding aspects of their work as they progress into subsequent phases is the partnerships that are forged to solve problems facing the state. Bringing together the technical and non-technical pieces of a project is where the researchers are really able to see their efforts make an impact.
Phillips has demonstrated a particular proclivity and talent for bridging the gap.
"The outreach and community involvement to promote education and develop workforce training opportunities are so critical to the success of what we do," says Phillips. "Our applied research provides a pathway to connect science to the community and is rewarding because it feels like the science is contributing on a larger scale."
A native of Wyoming, Bagdonas spent most of his upbringing in Laramie and Dubois. He graduated from the University of Wyoming in 2004 with a degree in Geology. After a few years working with the WSGS, he returned to earn his master's degree in 2014 in the same field.
During his graduate education, Bagdonas was part of some pioneering research that examined the 2.62 billion-year-old Wyoming batholith, which he wrote and published his thesis on in collaboration with Dr. Carol Frost and Dr. Susan Swapp in the UW Department of Geology and Geophysics. The article was published in the June 2016 issue of American Mineralogist, the journal of the Mineralogical Society of America.
Following his education, Bagdonas worked briefly for the State of Wyoming sourcing uranium minerals throughout the state before joining the School of Energy Resources in 2015.
Since joining the ranks of CEGR, Bagdonas' subsurface expertise has been utilized on several projects in the center. Most notably, he is one of the subsurface geologists working on the CarbonSAFE project, which has just entered Phase III. His work focuses on microscopy, mineralogy (the chemistry and physical structures of minerals), petrology (the study of rocks and the conditions under which they form), and general geologic aspects of the subsurface. He has been responsible for the analysis of hundreds of coal core samples from the PRB.
Originally from the Black Hills of South Dakota, Phillips shares a passion for geology and the subsurface. She earned her bachelor's degree in geology in 2000 from Macalester College followed by her master's degree in 2004 from the New Mexico Institute of Mining and Technology. She worked for the New Mexico Bureau of Geology and Mineral Resources working on waste rock pile characterization and spent several years as a research associate for Black Hills State University before deciding to pursue her Ph.D. at the University of Wyoming.
While working on her doctorate under the advisement of Dr. Ken Sims, she focused her dissertation on volcanology and geochemistry, and investigated alkaline volcanic rocks from Haleakala volcano on the island of Maui in Hawaii, Ross Island in Antarctica, and Nyiragongo and Nyamulagira volcanoes in the Democratic Republic of Congo. Phillips used isotope geochemistry to better understand the nature and evolution of alkaline magmatism in different tectonic settings. Her research has been published in several papers, including "Isotopic Constraints on the Genesis and Evolution of Basanitic Lavas at Haleakala, Island of Maui, Hawaii," and "The Nature and Evolution of Mantle Upwelling at Ross Island, Antarctica, with Implications for the Source of HIMU Lavas."
After earning her Ph.D. in 2017, Phillips immediately went to work for the School of Energy Resources in CEGR where she has played a fundamental role on the CarbonSAFE project. Her expertise in geochemistry has positioned her to be an authority in geological subsurface characterization for the Wyoming CarbonSAFE project in the PRB.
The accomplishments of Bagdonas and Phillips have already made a lasting impression on the mission for novel solutions for Wyoming resources. SER is pleased to have them as prized researchers among an outstanding team of scientists.
To learn more about SER and the exciting projects spearheaded by the Center for Economic Geology Research, visit the CEGR Website.