The Shell 3D Visualization Center Invites UW Faculty and Staff to Collaborate and Actively Seeks Departmental 3D Viz Champions
January 14, 2021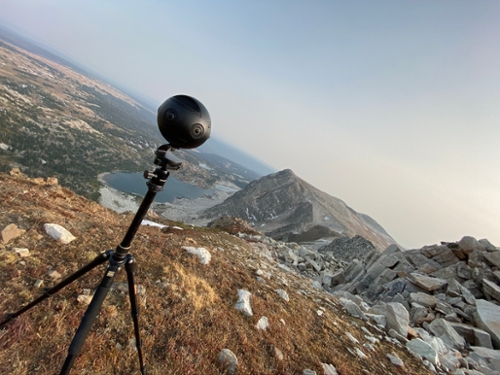 Photo: SoilSim 360-degree data capture on Medicine Bow Peak
The Shell 3D Visualization Center (Viz Center) in the Energy Innovation Center, has launched a new 2.0 format and is actively seeking project development partners, both old and new, to support dynamic and innovative teaching and research activity. The 3D Viz Center 2.0 welcomes UW faculty and staff interested in utilizing visualization, data capture, 3D asset creation, and software-development as part of research or teaching grant application to raise their interest and join in collaboration.
The 3D Viz Center 2.0 aims to become an integral part of the innovative teaching and research landscape at UW and is in the process of transitioning to a high-impact, self-sustaining unit providing digital visualization services and intellectual collaborative offerings. The Center is interested in supporting both internal (e.g. the UW Grand Challenges Initiative) as well as externally funded opportunities.
Alongside the Invitation to Collaborate, the 3D Viz Center 2.0 is also soliciting a second area of interest for University of Wyoming faculty and staff and is seeking Departmental 3D Viz Champions. 3D Viz Champions can be anyone at UW who would like to be an advocate for the application of 3D Viz in their domain. The Departmental 3D Viz Champions will support the newly formed '3D Viz Working Group' by attending one 45-minute meeting per month, to share their experiences of advocating for collaborative visualization activity. Places are limited.
Whatever your area of interest and expertise, the 3D Viz Center welcomes multidisciplinary ideas.
For parties interested in collaborating, the invitation is ongoing with no end date. Each member is expected to lead on collaborative discussions progressing to actual grant applications which utilize visualization as a service or as an intellectual component, as well as the expectation to actually lead at least one grant application. Faculty and staff who are accepted as collaborators prior to June 2021 are eligible for a one-time summer award/honorarium.
UW faculty and staff interested in becoming a 3D Viz Champion may express interest at anytime and are expected to engage once a month in discussions on collaborative activities.
Anyone interested is requested to contact Emma Jane Alexander at emmajane.alexander@uwyo.edu. Please include your college/department/section affiliation, your topic(s) of interest, as well as your needs such as active or future funding opportunities, and/or other collaborators.
---
About the Shell 3D Visualization Center
The Shell 3D Visualization Center (Viz Center) proudly houses the only four-walled, 3D CAVE (Cave Automatic Virtual Environment) in Wyoming.
Designed, engineered and integrated by Mechdyne Corporation, one of the world's leading providers of innovative visual-information technologies, the laboratory combines high-resolution stereoscopic projections and 3D computer graphics to create a virtual environment in which researchers can analyze, interpret and share a wide variety of spatially related data.
By utilizing visualization technology and embracing collaborative multidisciplinary opportunities, the Viz Center creates and maintains a community of empowered users who will drive the enhancement of teaching and research at UW.