CERPA Working Paper Notification: Second Paper in Series Posted
February 9, 2021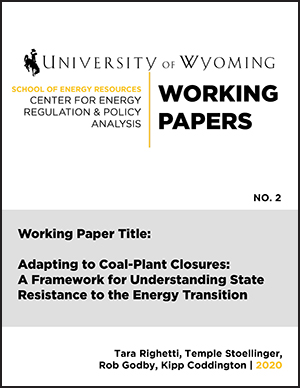 The Center for Energy Regulation & Policy Analysis (CERPA) at the School of Energy Resources (SER) has posted a new working paper to its working paper series.
The most recent article, "Adapting to Coal-Plant Closures: A Framework for Understanding State Resistance to the Energy Transition," unpacks the underlying drivers of energy transition resistance as closely tied to fossil-dependent revenue models and suggests the need for both state-level policies and federal investments in economic diversification.
In addition to providing open access to timely and relevant information, the article showcases the interdisciplinary and collaborative nature of energy research at the University of Wyoming. Co-authors on the piece include Professor Tara Righetti of the College of Law and School of Energy Resources; Assistant Professor Temple Stoellinger of the Haub School of Environment and Natural Resources; Professor Rob Godby the College of Business and Haub School of Environment and Natural Resources; and Kipp Coddington of the School of Energy Resources.
Serving as a method to solicit academic feedback prior to publication, the working paper series features articles, book chapters, and reviews in various stages of completion in the area of energy regulation and policy.
The platform is functioning as intended, with updated material readily available for content access and comment as pieces continues to make their way towards peer review and ultimately publication.
In addition, authors of the first working paper in the series have updated their paper to address the recent executive order from the Biden Administration. That paper has been reposted under a new working title, "The Carbon Storage Future of Public Lands."
As the lead author on both articles, SER Professor Tara Righetti believes sharing early versions of academic works in progress is highly beneficial.
"It can take as long as two years between when academic research is conducted and when articles are published," says Righetti. "Sharing academic works-in-process provides an opportunity to initiate discourse with other scholars and provide important new information and analysis to lawmakers and the public."
The working paper series can be found on the CERPA webpage or downloaded directly from SSRN. Comments on papers or questions about their content should be sent directly to the author(s).
(Pictured Left to Right) Kipp Coddington, Tara Righetti, Temple Stoellinger, Rob Godby