Student Profile: Meet Paige Trent
February 24, 2021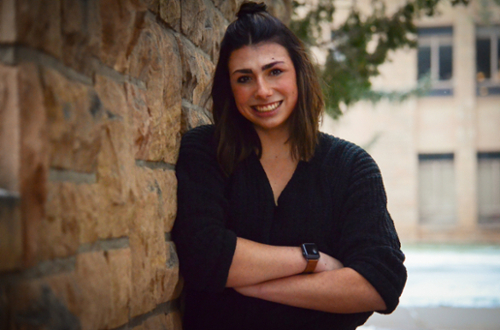 One of the most visible and prominent advocates for the Energy Resources Development and Management (ERDM) degree at the School of Energy Resources (SER) is Paige Trent. A long-time resident of Laramie, Trent had no idea that the degree program even existed when she enrolled at the University of Wyoming.  But, somewhere in the middle of her freshman year at the Haub School for Environment and Natural Resources (ENR), she crossed paths with SER and promptly signed up as a double-major.
Four years later, Trent has emerged as a leader among the campus community, a highly skilled energy scholar, and is on a trajectory to attend law school following graduation.
While the Haub School opened the door for Trent to the world of energy and natural resource management, SER is where she has found an academic home.
A student in the Professional Land Management (PLM) concentration of the degree, Trent discovered her proclivity and passion for energy policy and regulation.
"This program is so good for me because it combines all of my interested in an interdisciplinary manner," says Trent. "It allows me to take those interests and see how they are going to be applied in real-world scenarios as well, which is incredibly beneficial."
Another contributing factor to her decision to major in ERDM was the welcoming and supportive faculty and staff at SER. 
"The people here are really great," she comments. "College can be intimidating, but everyone at SER encourages you to succeed and gives you so much individualized attention."
SER is unique in that it currently only offers one degree program and is therefore often overlooked in the academic spheres on campus. Multi-faceted in its mission, the school primarily focusing on innovative energy solutions, but academics are a critical part of that goal. Increased visibility of the program has been a major objective.
Trent has been instrumental in the growth of the program, and made it a main goal of hers to help promote the degree on campus. In 2017, Trent petitioned for the School of Energy Resources to have a seat on the ASUW Senate, a role in which she served for three years.
Additionally, she resurrected and reinvigorated the recognized student organization (RSO), the Energy Resources Club (ERC). Undeterred by COVID, she has adapted the club to the online world, and is still driven to connect her classmates with exceptional speakers and networking opportunities among the energy practitioners in Wyoming, and to foster valuable community service opportunities.
Her enthusiasm for the ERDM degree is matched by her fervor to gain practical experience. Throughout her college education, she has worked as a Utilities Intern for the university. In her role, she has helped to track the energy efficiency and consumption on campus, produce a Geographic Information System (GIS) map of all the underground utilities on campus, and aid in reporting to the Department of Environmental Quality (DEQ) for the steam plant.
Trent has been unyielding in her determination to take advantage of every opportunity afforded to her in the program. When offered the chance to tour different energy sites around the state or sit in on examiner hearings with the Wyoming Oil and Gas Conservation Commission (WOGCC), she leapt at the prospect.
"One of the highlights about this degree program is that you actually get to see first-hand everything you learn in class and meet the real people working in industry and the energy sector in Wyoming," she says.
With graduation in sight, Trent reflects on all that the degree has offered her and is looking forward to moving on to pursue her legal education.
"SER has been an amazing introduction to law school," says Trent.  "I feel extremely prepared with real world experience and knowledge that will help me in the future. The curriculum is unbeatable and now having taken multiple law courses, I feel that I have been set up for success and equipped to take the next step."
Grateful for the experience that she has had, Trent hopes that she can serve as an example for current and future students interested in any area of energy resources.
Offering some final words of wisdom, she advices, "take advantage of the opportunities that are provided to you because there are so many, and don't be afraid to explore! This program is so interdisciplinary, so it is easy to customize your experience and get out what you put in."