Aryana Named UW's Occidental Chair in Energy and Environmental Technologies
March 30, 2021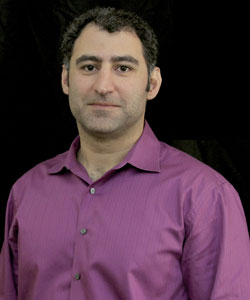 Saman Aryana
Saman Aryana is the first Occidental Chair in Energy and Environmental Technologies in the University of Wyoming's School of Energy Resources (SER).
A UW chemical engineering associate professor, Aryana's research has primarily focused on the fundamental physics of flow instabilities and the dynamics of subsurface displacement processes.
Inspired by Occidental's pursuit of enhanced oil recovery technologies and leading-edge carbon capture, use and storage (CCUS) projects, the chair was created to champion a distinguished UW faculty member whose research expertise lies in improving enhanced oil recovery techniques, as well as long-term carbon dioxide storage solutions. Occidental is one of the largest oil producers in the U.S., including a leading producer in the Permian and DJ basins, and offshore Gulf of Mexico.
"I am honored and humbled to have been awarded the Occidental Chair in Energy and Environmental Technologies, and I am grateful to Occidental for their generosity and vision," Aryana says. "I look forward to the opportunities made possible through this endowed chair position to address timely and impactful questions related to CCUS and CO2-enhanced oil recovery, and help establish the University of Wyoming and the state of Wyoming as leaders in CCUS."
He adds that he looks forward to working with students and mentoring the next generation of environmentally prudent engineers and scientists.
Throughout his career, Aryana has demonstrated a commitment to excellence in the pursuit of multiscale systems at the nexus of energy, water and the environment -- encompassing the intent of the chair. In particular, he has extensively examined macroscale models of flow in porous media and the fundamentals of subsurface flow processes. Many of his research endeavors have explored experimental investigation techniques of flow dynamics in shale oil reservoirs and the application of reservoir management using data analytics.
His understanding of subsurface interactions makes him keenly aware of CO2 mitigation technologies and will help him excel in his applied research to provide guidance for the economic success of CCUS projects in Wyoming, says SER Executive Director Holly Krutka. Additionally, Aryana will collaborate with the Occidental Chair in Energy and Environmental Policies -- a search for that chairholder has been recently launched.
"Professor Aryana is an ideal fit for the Occidental Chair in Energy and Environmental Technologies, given his historic scholarship focused on energy technologies," says UW Interim Provost Anne Alexander. "Under this chair, he will increase knowledge needed to train the next generation of Wyoming energy leaders on novel and emerging technologies."
Krutka says the overarching mission of SER is to develop and deploy expertise necessary to solve critical energy challenges. In pursuit of this mission, SER facilitates the hiring, professional development and retention of internationally competitive faculty at UW.
"SER is incredibly grateful to Occidental for working with us to create this chaired position," she says. "We hope that this chair will further grow UW's already strong expertise in CCUS and increase collaboration with Occidental as a global leader in the technology. In addition, this chair is a wonderful tool to help us advance SER's energy-focused economic development mission for the state and support talented faculty like Dr. Aryana."
In an effort to continue growth in energy education and investigation, Aryana has dedicated much of his expertise to students. He has taught courses in macroscale models of flow through permeable media, multicomponent thermodynamics, chemical engineering computing and petroleum economics.
In 2019, he was nominated for UW's Distinguished Graduate Faculty Mentor Award. He currently leads a research team of graduate and doctoral students in the Department of Chemical Engineering. Over the years, he has helped to launch the careers of many UW graduates.
Since working at UW, he has been involved in multiple university services and professional activities. He is the founder and president of the Northern Section of the Society for Industrial and Applied Mathematics, which covers Montana, North Dakota, South Dakota, Utah and Wyoming. He also has taken on an administrative role as the UW Department of Chemical Engineering's graduate program coordinator.
Before joining UW's faculty, Aryana worked as a reservoir engineer for Occidental as part of a reservoir management team, and he served on a business development group for the company. He earned his B.S. and M.S. degrees in civil engineering from the University of Texas-Arlington, and his Ph.D. in energy resources engineering from Stanford University.