Student Profile: Molly Murnane
April 29, 2021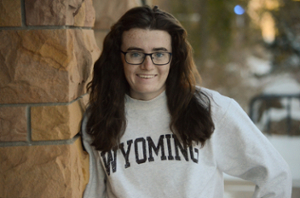 The Energy Resources Management and Development degree (ERDM) at the School of Energy Resources (SER) boasts the versatility to incorporate all areas of interest in the energy sector. While some students come with the humanities-based background in the hopes of pursuing a career in energy law, real estate, or business, others are drawn to the degree with a robust scientific background.
Sophomore Molly Murnane of Annapolis, Md., transferred into the ERMD program from the College of Engineering and Applied Sciences after her first semester at the University of Wyoming. Now a student in the Energy, Land, and water Management concentration, Murnane continues to cultivate her interest in math and science while exploring other related disciplines within the energy sector that make up the bulk of her coursework.
"I made the switch from engineering because the curriculum was just so rigid and it didn't allow for many outside courses," says Murnane. "I realized I wanted to be out in the field more and take a broader spectrum of courses, and the ERMD degree has been a really great fit."
In addition to accommodating her love of being outdoors, the degree has also provided the opportunity to gain practical experience.
Taking a wide array of classes in different areas of interest landed Murnane in a funded research position with the Laughlin Lab on campus through the Wyoming Research Scholars Program (WRSP). Funded in part by SER, WRSP pairs undergraduate students with faculty mentors to participate in research throughout their undergraduate careers and is a major piece of UW's Science Initiative. Murnane was awarded a position at the end of her freshman year.
Run by Associate Professor Daniel Laughlin in the Department of Botany, the Lab develops quantitative approaches to understand and predict how plant species and communities respond to global change.
"Working in lab has been a wonderful experience and the degree program definitely opened that door for me," says Murnane. "I've gained a lot of knowledge and the coursework thus far has really helped it come together. I learn fundamentals in my classes and then get to see them in real life in the lab."
Murnane has also had the opportunity to conduct fieldwork during the summers. Last summer she worked with Natrona County Weed and Pest on a backpacking crew to control weeds. This year, she is preparing to work in the field on a restoration project in the western rangelands through the Laughlin Lab.
"I'll be working on a project that monitors plants in drought simulations," she says. "We are hoping to make plants more drought resistant and tolerant so they actually survive in adverse conditions."
In order to accomplish this, students in the lab will build shelters near Cheyenne, select species of plants that are growing in the area, and then monitor which species thrive in a forced drought.
"I was really excited when Molly received the scholarship," says Professor Laughlin. "She jumped right into the research environment and has been measuring traits on plant samples to determine their drought tolerance. This summer she will be monitoring water and nutrient use in an experimental grassland restoration project."
In addition to gaining indispensable knowledge and experience, Murnane is also on track to graduate in four years – benefitting from the interdisciplinary nature of the degree.
"I am so grateful for the flexibility of the ERMD degree," she says. "Anything I took in engineering transferred over so there was no wasted effort or lost time working towards a degree."
Following her degree, Murnane hopes to pursue a career in a government agency or perhaps in the private sector working on environmental assessments. She is also considering the Peace Corp. Either way, she feels prepared for whatever comes her way and advises other students to consider the program as well.
"If you are not really sure what you want to do, this is a good degree to pursue," she recommends. "It is so diverse so you gain exposure in everything but still feel like you are being trained for a specific profession. There are so many inter-related options, I am excited to put what I've learned to good use."