UW School of Energy Resources to Host Panel Discussion on Advanced Energy Technologies
May 25, 2021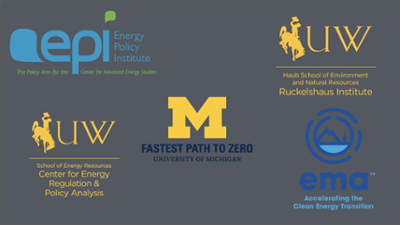 The UW School of Energy Resources (SER) Center for Energy Regulation & Policy Analysis (CERPA) will host a panel on nuclear energy, along with its partners – Boise State University's Energy Policy Institute (EPI), the University of Michigan's Fastest Path to Zero Initiative, Idaho National Laboratories (INL) Emerging Energy Market Analysis (EMA) Initiative and the UW Haub School for Environment and Natural Resources.
The webinar, which will take place on June 2, 2021 at 11:00 a.m. MDT, gathers leading experts in technology, regulation, and energy siting to discuss the legal and regulatory considerations relative to developing advanced nuclear technologies. 
Recently, Wyoming Governor Mark Gordon and President Biden have both announced ambitious goals geared toward energy transition and the revitalization of energy communities. Read together, these paint a picture of Wyoming's future as a net-negative CO2 emissions energy exporter.
"In addition to decarbonization, advanced energy technologies – including nuclear and hydrogen –may be important to achieving regional and national energy transition goals," says SER Professor of Law Tara Righetti, who will facilitate the discussion. "All energy sources have trade-offs. Understanding those trade-offs is critical to informed decision making about Wyoming's future energy mix."
While UW has done significant outreach related to decarbonizing Wyoming's existing fossil energy sources through its carbon management programs, this is its first program to address legal and regulatory aspects small nuclear reactors as an additional advanced energy technology.
The all-star panel of energy experts will dive into the legal, socio-political and environmental considerations of phase IV nuclear generation, including small modular reactors. In addition to offering a technical overview, the 90-minute panel will discuss clean energy standards, zero emission credits, licensing, regulations, and safety issues.
Time will be reserved at the end of the presentation for questions.
The collaborative panel will feature nuclear engineer Dr. Todd Allen from the University of Michigan, Aaron Weston from the Idaho National Laboratory, John Kotek from the Nuclear Energy Institute, and Professor Temple Stoellinger from the UW Haub School of Environment and Natural Resources.
"Small modular reactors are an exciting advanced energy technology that has great potential, although this technology is not without environmental risk and societal opposition," says Temple Stoellinger. "We are hosting this webinar to share information on the technological advances in small modular reactors and also unpack the legal and social challenges involved with mobilizing this technology."
The webinar is free and open to the public. The presentation has been approved for 90-minutes of Continuing Legal Education (CLE) credits in Wyoming, and applications for accreditation are currently pending in Colorado and Idaho.
Registration for the event is required. A link is provided below or can be found on the UW School of Energy Resources Events webpage along with information on the speakers. Once registered, attendees will be emailed the webinar link no sooner than 24 hours before the start of the presentation. Registrants may also submit questions for the panelists in advance through the registration portal.