UW's Quillinan and McLaughlin take on New Leadership Roles in the School of Energy Resources
June 8, 2021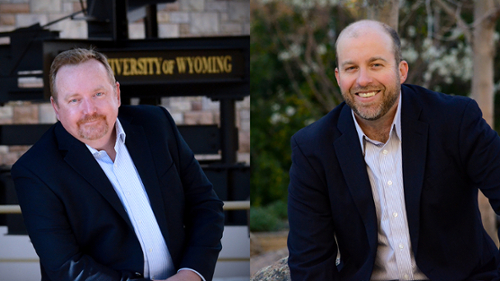 The School of Energy Resources (SER) is pleased to announce the promotion of two senior research professionals within the organization, Mr. Scott Quillinan and Dr. Fred McLaughlin.
Quillinan, who has previously served as the Director of Operations and Communications and the Director of the Center for Economic Geology Research (CEGR), has stepped into the newly created position, Senior Director of Research for SER. In his new role, Quillinan will oversee and manage the senior research staff with the objective of improving the overall execution of SER's research program and reinforcing collaboration with faculty. An important aspect of the job will be to streamline the development and submission of external funding proposals as well as to identify new strategic research opportunities that will lead to Wyoming economic development.
"The School of Energy Resources has world-class talent and research facilities and is a national leader in energy research," says Quillinan. "As the energy landscape evolves, SER's role in discovering, inventing, and innovating new and emerging energy technologies is more significant than ever before. I am grateful and excited to be in this new role and part of the team at SER."
Quillinan has been a leading figure at SER since 2012. As a founding member of CEGR (formerly known as the Carbon Management Institute) Quillinan has focused his expertise largely on directing, designing, and implementing projects to advance and diversify Wyoming's energy sector. As a licensed professional geologist, his research interests predominantly center around the energy transition and thoughtful approaches to decarbonize fossil fuel energy systems. Prior to joining SER, Quillinan worked for the Wyoming State Geologic Survey for six years after earning both his B.S. and M.S. in Geology and Geophysics from the University of Wyoming.
In addition to his research contributions, Quillinan has dedicated his time and expertise to educating the public on the innovative energy development projects occurring in Wyoming and raising the profile of the institution. Under his watch, CEGR has been responsible for bringing in over $35 million in grants that directly benefit the state. He is a principal investigator or co-principal investigator on several Department of Energy funded projects.
While much of his prior efforts have been focused on geologic research in the trenches, his new position will see him in more of an administrative role. He will continue to lead outreach efforts related to SER's research program with an emphasis on maintaining and improving SER's and UW's reputations with external funding agencies and industry stakeholders. He will also continue to oversee and manage the funding for all of the faculty-led SER Centers of Excellence.
"SER's research program is growing rapidly – and must do so to address the state's energy-sector challenges," says SER Executive Director, Dr. Holly Krutka. "There's no one better suited to shepherd and lead our team to address state challenges and no one more focused on the success of Wyoming than Mr. Quillinan."
With Quillinan stepping away from his leadership role in CEGR, McLaughlin has taken the reins as Interim Director. Having served CEGR for nearly a decade as a Senior Research Scientist, McLaughlin has been an instrumental leader on multiple high-profile, grant-funded projects, including the nearly $20 million Phase III Wyoming CarbonSAFE project.
Much of McLaughlin's career and research focus has been developing commercial-scale CCUS projects, mainly in Wyoming. McLaughlin has been a part of, or led, every major CCUS project to-date within the state, and also has participated in other national and global CCUS projects. He has authored numerous publications and served as a speaker at professional conferences, meetings, and workshops.
McLaughlin has extensive teaching and mentorship experience and is credited for his pedagogical abilities. As Interim Director, he will continue to guide and manage the multidisciplinary technical group of geologists and engineers, building on his already impeccable record within the university.
"Researchers and scholars are drawn to Wyoming because of its unique geology," says Krutka. "Dr. McLaughlin's reputation as a world-class geologist and extensive experience leading large research programs will serve him well in this role in which he will lead SER's largest and fastest-growing research center."
McLaughlin has a proven track record of working with industry partners and state agencies, and will now be charged with overseeing the rapidly expanding team at CEGR. His program management and project leadership skills will play a vital role in the continued success of the extensive projects that the center is undertaking — including Phase III of the Wyoming CarbonSAFE project that is currently in the process of facilitating a much-anticipated drilling of a second well, and the Carbon Ore, Rare Earth and Critical Minerals Initiatives (CORE-CM) projects in Wyoming that were recently selected for award negotiations.
"I am incredibly honored to serve the dedicated scientists and staff of CEGR," says McLaughlin. "Being part of this organization since its inception, and being part of its growth, has been one of the most rewarding experiences of my career."
McLaughlin earned his B.S., M.S., and Ph.D. from the University of Wyoming in Geology and Geochemistry. Prior to joining SER, he worked as a Geologic Analyst and Manager for the Wyoming State Geologic Survey for eight years.
The team at the School of Energy Resources congratulates both Quillinan and McLaughlin on their accomplishments and contributions and is excited for the next chapter under their leadership.