UW School of Energy Resources to Host Panel Discussion on the Importance of Hydrogen Energy in Wyoming
July 19, 2021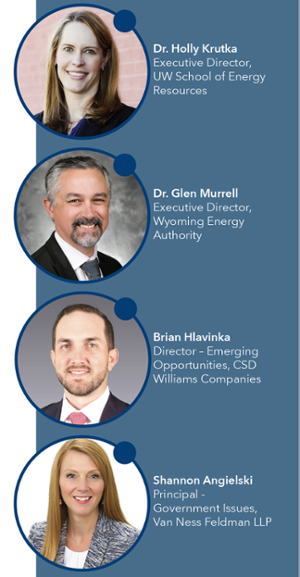 The UW School of Energy Resources (SER) will host a webinar panel discussion on hydrogen energy in Wyoming on Thursday, July 29, 2021 at 1:00 p.m. MDT. The panel gathers leading experts in an emerging energy technology and related policy to examine the use of hydrogen as part of the worldwide decarbonization strategy – and why Wyoming could be an early leader in its deployment.
The panel will feature SER Executive Director, Holly Krutka, Wyoming Energy Authority Executive Director, Glen Murrell, the Director of Emerging Opportunities for CSD Williams Companies, Brian Hlavinka, and Shannon Angielski who serves as the Principal for Government Issues for Van Ness Feldman LLP.
"As Wyoming seeks to identify new opportunities to diversify its energy sector, hydrogen can play a critical role," say Dr. Krutka. "Hydrogen is already a major global commodity, and is a natural fit for Wyoming energy production, as the state's natural resources and existing infrastructure are well-suited to launch a hydrogen economy."
The panel discussion will provide an introductory overview to attendees of the Wyoming Energy Strategy and how hydrogen fits into it. Additionally, it will examine the Wyoming Hydrogen Initiative, as well as emerging commercial opportunities and the role policy can play in the deployment of new energy technologies.
Time will be reserved at the end of the presentation for questions.
"We are very excited to bring this discussion to the forefront," adds Krutka. "Wyoming is well positioned to be a leader in developing new ways of producing and using hydrogen with existing sources, and being first to market."
The webinar is free and open to the public, though registration is required. A link is provided below or can be found on the UW School of Energy Resources Events webpage along with information on the speakers.
Once registered, attendees will be emailed the webinar link no sooner than 24 hours before the start of the presentation. Registrants may also submit questions for the panelists in advance through the registration portal.
Event Registration: http://www.uwyo.edu/ser/events/event-registration.html