SER Center for Economic Geology Research Welcomes New Research Scientist
July 30, 2021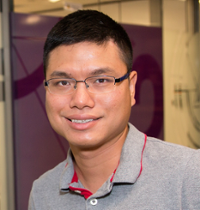 The School of Energy Resources (SER) is pleased to welcome Dr. Minh Nguyen into the Center for Economic Geology Research (CEGR).
In his new role, Dr. Nguyen will serve as an Assistant Research Scientist specializing in geostatistics, reservoir modeling, and risk assessment. He will primarily be working on the Wyoming CarbonSAFE project, but will also assist CEGR on other high-profile research grants and initiatives. Utilizing his exceptional skills at explaining geologic and engineering data, he will work to analyze the spatial relations of seismic and well log data to build more predictive models in the subsurface.
Originally from Saigon, Vietnam, Nguyen came to the United States to further his education. He earned his M.S. from the University of Kansas in Petroleum Engineering in 2014. He recently completed a Ph.D. at the University of Wyoming in Geology and Geohydrology. During his Ph.D., Nguyen worked for Los Alamos National Laboratory as a CO2 modeling specialist. He has been a part of multiple Department of Energy (DOE) funded projects including those at the Kansas Geological Survey and his research efforts have resulted in several publications, reports, and presentations.
In addition to his technical writing abilities and research talents, Nguyen brings a wealth of practical experience to the position. Nguyen worked as a reservoir engineer at Schlumberger and in carbonate reservoir modeling/simulation for ExxonMobil prior to pursuing his doctoral degree.
Nguyen is excited to continue to utilize his expertise in Wyoming.
"The Wyoming CarbonSAFE project will be the fifth DOE project I've worked on," says Nguyen. "I am excited to be able to continue serving this country in energy research, and work on carbon projects that will make an impact in the energy space."