SER Center for Carbon Capture and Conversion Welcomes New Research Scientist
August 23, 2021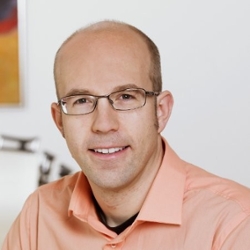 The School of Energy Resources (SER) is pleased to welcome Dr. Stefan Holberg into the Center for Carbon Capture and Conversion (CCCC).
Holberg is the first direct hire into the CCCC, where he will be serving as an associate research scientist. He will work directly with the center's director, Richard Horner, coordinating and facilitating ongoing and new project activities being performed by faculty-led research teams and external partners.
"Historically, the work conducted in the CCCC has been through direct funding of research and development," says Horner. "Hiring someone to manage and coordinate the rapid transfer of laboratory successes — whether emergent from the University of Wyoming or partner laboratories — to the field, is a huge step forward for us. These ambitions are consistent with the center's primary goal to bring technology to market."
Originally from Mannheim, Germany, Holberg earned his M.S. and Ph.D. degrees from the University of Stuttgart in Organic Chemistry. He previously worked in senior industry scientific positions, most recently in Denmark, developing coatings and resin systems at the Danish Technological Institute, a private consulting firm for international customers such as Chevron or Alfa Laval.
Holberg came to UW in 2018, as a post-doctoral researcher. Housed in the Chemical Engineering department under the direction of Professor Patrick Johnson, Holberg worked on projects funded by the CCCC and SER, where he worked specifically on developing polymers and coatings derived from Powder River Basin (PRB) coal.
In his new role, Holberg will not only be overseeing ongoing coal to non-energy and fuel projects funded by the CCCC, but will also assist in writing proposals to attract new funding opportunities. Additionally, Holberg will lead new initiatives that leverage his chemistry background and expertise.
Holberg is thrilled to be a part of the research team at SER.
"I am excited to be at the School of Energy Resources and working on multiple projects," he says. "We are working on so many remarkable projects. I hope to build upon the already recognized successes and support the common goal of technology commercialization."